Violated Vacations - III
(mm/f, i/r, n/c)
by
Black Demon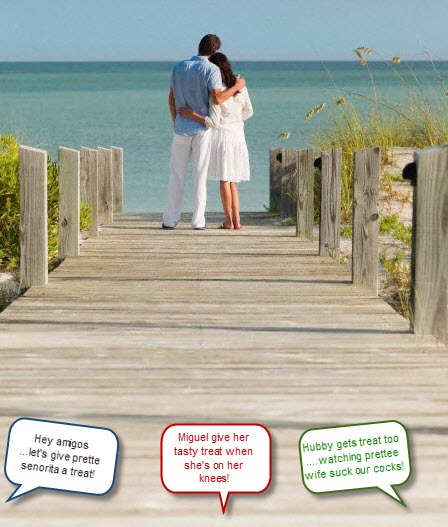 ______________________________________________
Standard Disclaimer!
This is a fictional story intended for Adults only!
______________________________________________


************ ***********

Note: The story below is a story in itself. However, it is also a direct continuation

of the earlier story entitled: 'Violated Vacations 1'

************ ***********
A husband and wife, relaxing while vacationing in some romantic spot far off in another country, often letting their guards down and not being as cautious as they normally would be while at home. Unaware of the local customs nor the current events in the community, it was normal for tourists to be lulled into a false sense of security, with basically all places only warning that one should be on the lookout for pickpockets when in a crowded area as the books had warned of. Tourist destinations or wherever tourism plays a major part of a city's or country's economy, crimes against tourists are often kept from the media to avoid any adverse publicity, especially being kept mum from the international press corp. Such was often possible due to the short anticipated stay of the tourists involved and the difficulty or unwillingness of the victims to return to testify in court. Anything short of a tourist being murdered, the news of crimes against visiting tourists could and would be kept from the local press, with the news of such crimes being limited to word of mouth or hearsay rumors. The merchants and tourism board, along with the local politicians, all knew the importance that nothing rock the boat when it came to tourism .......................with a rash of crimes, especially where it involved bodily harm to a tourist, would certainly put the dampers on future hotel bookings! As an example, a well known island resort off the Thailand coast was paying out quite a sum to local law enforcement and local reporters to quell the horrendous rash of crimes being committed by a trio of local hoodlums against tourists .....................with eight similar crimes involving young visiting couples staying at the resort ..........................each kidnapped and taken to the trio's hideaway deep in the brush ......................with the husband tied securely to a tree and made to watch his beautiful wife forced to her knees to please each bastard with her lips, then being gang raped by the vile trio!

Fifty miles south, David and Liz McKnight were honeymooning at the El Caputo Resort: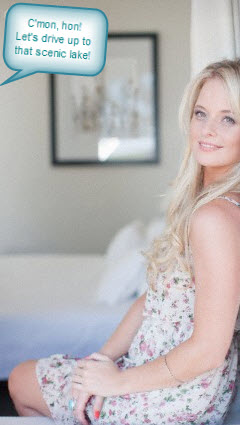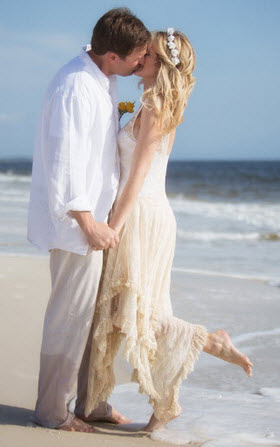 On Saturday afternoon, a beachfront wedding brought about the union of Mr.& Mrs. David McKnight, with all their parents and friends there to celebrate the joyous occasion.

David McKnight and Liz Hampton had been dating since their freshman year in college, falling totally in love with one another at sorority/fraternity get together. Dating exclusively from that point on, they both looked forward to graduating from college, the the plan was for them to tie the knot once each had gotten a job and settled in it. All that had been accomplished and they had their dream wedding on the beach, with the sun shining and not a drop of rain to damper the celebration. Then it was off on their honeymoon trip to the El Caputo Resort in Brazil that had been a wedding gift from her sorority sisters.



From their hotel room, it it being a corner unit that overlooked the ocean and they could see the hillside off to the right side where a beautiful scenic lake was located. As Dave enjoyed shore casting and had even packed up a small customized fishing rod, as he was anxious to see what fishing was like in a foreign country, thus he hollered out to Liz "C'mon, hon! Let's drive up to that scenic lake! We can take in the sights and hopefully I can toss a line out!" Looking up at the area where it was located and seeing no clouds at all, Liz replied "Okay, I'm game ...........................let me put on put on a pair of shorts and get my tennis shoes!" As she walked towards the closet where she had hung her clothes, Liz proceeded to pull her thin nightie over her head, thereby revealing her bare breasts to her husband as there was no longer any reason to be modest any longer. But Dave was still frisky upon seeing his sexy bride, he grabbed her hand and began pulling her towards the bed, telling her "That scenic lake can wait another hour or so!"

Pushed down onto the bed, Liz was excited as her husband was grabbing at her lacy white panties, then he was working the flimsy garment down her legs on off her feet. As her husband still had on a pair of boxer shorts, Liz leaned up to reach over and give it a hard yank, laughing as his manhood was slowly rising up to the occasion. Reaching out once again, Liz then wrapped her manicured fingers around his throbbing tool, jerking at it to get it back to standing attention for her. With it all big and hard, Liz wondered as to how her body could adjust the way it had to accept that thick fleshy stem jutting out from her husband's loins, and also as to how such a 'thing' up inside of her could make her feel so good. Being a religious and church going girl, Liz had accomplished that rare feat among women getting married these days .....................that of remaining a virgin till her wedding night! It had indeed hurt initially, but the fact that she was now Mrs. David McKnight soothed the pain away and she was proud to now be a 'real' woman.

Once they got out of the city limits, it was basically all countryside and farm land, then followed by forests with the winding road leading up towards their destination of the lake up at a high elevation. After nearly two hours of driving, they reached their destination and were in awe of the beautiful scenery, pulling the car up in the cleared area for parking, they got out to taking in the scenery. They first went far off to the left side of the dock where some ducks swimming about, sat down on the sand to watch the ducks, then getting up to skip a few stones, it was turning out to be the best honeymoon that anyone could ever hope for. But for Liz and Dave, their stopping by this lake couldn't have been more ill-timed, for driving up behind of them a couple minutes later were two of the most cruel and vulgar men living in that particular area. The men had gotten out of their beat-up car, was checking out the car rental that had been rented at the airport, then the men's eyes were focused on lakeside. Having noticed the two men behind of them near the car, Dave and Liz wanted to be friendly and gave them a wave 'hello', which they then got the same reply of a wave back from the men.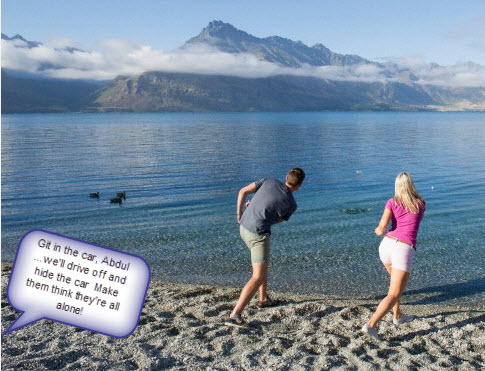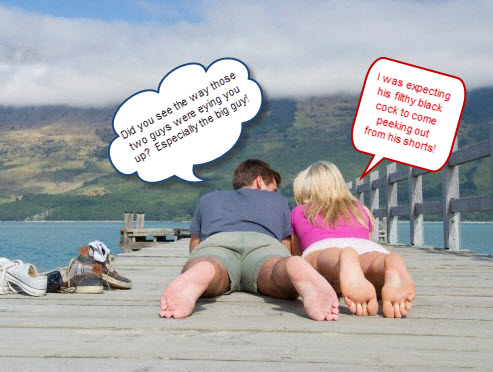 Those two pairs of dark eyes had been taking in the same view, just a bit from behind of them, but they were mainly focused on Liz's shapely white figure and long blond hair. "Git in the car, Tomas ...................we'll drive off and hide the car! Make them think they're all alone! Damn ......................lookit that beautiful piece of ass .........................God, I've got myself a fuck'n hardon! Have ya ever seen a beautiful little bitch like that? Jesus ...................my fuck'n balls are aching ...........................we's gotta git us a piece of that American tail! Yes ........................let's send her back to America with a souvenir from our county .............................like a little dark curly haired bambino!" Ramon advised. Then his buddy Tomas replied "Yes, indeed ..........................I would love to fuck yer good ............................knock her up good!"

Walking over to the nearby pier, Dave and Liz took off their sneakers and stretched out on the wooden deck. Dave chuckled, then inquired "Did you see the way those two guys were eying you up? Especially the big guy! Guess they don't get to see many blond beauties up in up in this area! Bet I was the envy of those guys!" With his wife laying beside of him, Dave chuckled on hearing her reply of "I was expecting his filthy black cock to come peeking out from his shorts! I guess you're right that they don't see many blondes up in this area ..............I think they departed so they wouldn't be walking around with their shorts tented up!" The two men had indeed left early upon their arrival, but the reason was a bit more devious as they did not want the blond beauty to leave early on their account, especially as no one else was around to see anything.

A phone call was made by Ramon, telling friends Jamal and Abdul as to what was up and to join them with the planned fun and games. While their friends were on their way to join them, Ramon and Tomas planned on making their way back to the lake on foot, flattening one or two tires of their rental car. Once that was accomplished and provided no one else showed up, the lovely young beauty would be all theirs for the taking, for the young punk with her would be of no match for the four of them. This gang of four was always up to no good, enjoyed taking advantage of tourists as the majority would be returning home and not wanting to come back to attend any trial.

The last memorable caper for the vulgar gang of four had taken place a couple months back, when they had kidnapped a beautiful mother in her late 30's with long blond hair and her attractive 18 year old daughter who had just graduated from high school and about to head off to college. Ramon had lucked on in being the one to cop the daughter's precious cherry, while Tomas got the honor of making her beautiful mother scream when he took her cherry white ass, and after all four bastards had a separate turn with mother and daughter ........................it turned into gang rape sessions, beginning with the mother as her daughter was forced to watch. Ramon told Tomas that "Her hubby will obviously want to protect his beautiful young bride ..............................so we should have him protect his lovely wife from us getting her 'knocked up' ...............................like we did with the last two couples!" Tomas laughed and replied "Yes indeed ....................................we let hubby be her means of birth control ........................................make him eat out her pussy whenever it gits filled up with our hot baby batter!"


An hour later, with the couple walking back to their rental car with shoes in hand, dismay set in when they found the right rear tire completely flat on the ground. Dave had opened up the trunk and getting out the spare tire and jack when a car pulled up with two men in it, and they were relieved when the men offered to help. But crouched low and hidden in the back of the vehicle were the the fishermen who had left when they had arrived. Watching the two men were busy changing the flat tire for them, the men in the back of the car came around to catch them by surprise, with Dave being knocked out by a blow the the back of the head and Liz trying to fight off her attacker. With the other two men getting in on the act, Dave was tossed into the trunk of their car and Liz was pulled into the backseat by the two men. One of the men got into the rental car and led the way, with the other the driver that had arrived to fix the flat following, and soon they were pulling up next to the car that had been stashed away in the brush.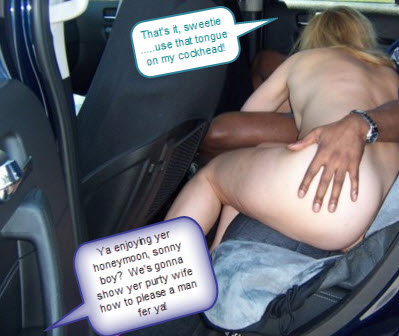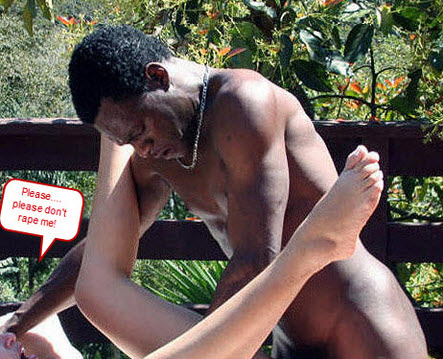 Sitting on the ground and securely tied to a tree when he regained consciousness, Dave could only shudder in horror as his bride of just two days was now naked in the backseat of their rental car .......................being forced to take a black bastard's erection into her mouth! Then the bastard holding the knife on him commented "Ya enjoying yer honeymoon, sonny boy? We's gonna show yer purty wife how to please a man fer ya! My friend Abdul there will make yer purty bride a talented little cocksucker fer ya! Me .........I's like to hear a purty little thing screaming her head off ...............................when I's shove my cock up her tight little ass! Ya wanna hear yer purty wife scream her little head off ........................I'll make her scream fer ya ..........................make yer purty wifee scream real good! "

Heart thumping madly in his chest, Dave saw the big black hand caressing Liz's bare ass, then heard the bastard in the car say "That's it, sweetie .................use that tongue on my cockhead! Oh, yeah .......................oh, yeah ...................suck it .....................suck on it .......................yeah, jist like that! Now use the tip of yer tongue ......................put it in my pisshole ...............................tease it with you tongue ............................oh, yeah, that's it .....................ohhhh, yeahhhhhhhhhhhh!" Dave then saw the bastard's other hand on top of Liz's head, pushing her down further onto the bastard's cock, then heard him groaning out "Oh, damnnnnnnnnn ........................mama mia ..............................oh, sweetie ...........................gonna cum in that talented mouth of yers! Ahhhhhhhhhhhhhhhhhh, fuckkkkkkkkkkkkkkkkkkkkkk ............................................arggghhhhhhhhhhhhhhhhhhhhhhhhhhhhhhhhhhh!"

Moments later, Dave observed his newlywed wife being pushed out of the backseat of the car, right hand covering her mouth as she was about to throw up. With his wife naked and kneeling on the ground, Dave watched as Liz bent forward and then began puking her guts out. "Arrraakkkkkkkkkkkkkk .....................accckkkkkk ...........................acccccckkkkkkkkkkkkkkkkkkkkkkkkk!" were the sounds that made Dave shudder with horror for his wife, knowing that it was the very first time for Liz to have taken a man's cock into her mouth, something that she had refused to do for him and had flat out told him "I'm not a whore off the street who would do such a filthy thing! You had better go out in the back alleys and find yourself a hooker who would stoop low enough to take your 'thing' in her mouth!"

Grateful for the bottle of water being handed to her so she could wash her mouth out, Liz found herself being assisted up from the ground, saw that it was the old black male who had been earlier tied David up to the tree. Liz turned to see her husband's astonished face, his eyes wide and mouth open as he was speechless, then found herself being pushed down onto a thin mattress that had been laid down next to the wooden fence. And to her horror, the bastard was grabbing her ankles to push her legs up and wide, then he was shuffling up between them. "Please ....................please don't rape me! Please ..............I just got married .........................and I've only been with my husband! Oh, my God .........................my God .........................your 'thing' is too big ............................way too big ..............................it won't fit in me ...........................you'll kill me with that 'thing'!" Liz pleadingly sobbed out as the black bastard was rubbing the blunt end of his thick tool up against her sex. "Eeeieeeeeeeeeeeeeeeeeeeeeeeeeeeeeeeee .................................stop ............................stopppppppppppppppppp ......................................please stopppppppppppppppppppppppppp .........................................owwwwwwwwwwwwwww!" Liz screamed out from the painful penetration by the black bastard's humongous manhood.

Dave's eyes were even wider at this point, unable to comprehend just how Liz could accommodate that black bastard's monstrous cock, but he was seeing it happen with his own eyes. Tied to the tree and gagged, Dave had watched after the guy who had tied him up patted him on the shoulder and stood up while informing him "Wow, she's really puking her guts out! Ramon go git yer purty wife some water to wash her mouth out with! Then Ramon show her where I's like to put my cock in a purty bitch like her!" With his eyes bulging out when the black bastard name Ramon revealed a cock that would make a donkey proud, for it had to be at least 13" in length, and now have of it had been forcefully shoved up into his wife's tiny body to make Dave think 'Oh, God ...................the bastard's gonna kill her with that monstrosity!'
"Eeeieeeeeeeeeeeeeeeeeeeeeeeeeeeeeeeee .....................................eeeieeeeeeeeeeeeeeeeeeeeeeeeeeee .........................eeeieeeeeeeeeeeeeeeeeeeeeeeee .............................eeeiiiieeeeeeeeeeeeeee ....................................stoppppppp ...................................stoppppppppppppppp ...............................please stoppppppppppppppp!" Dave heard Liz crying out pleadingly as Ramon continued to slide inch after inch of his thick black cock up into her.



Somehow Liz managed to get accustomed to to Ramon's length and thickness, for she was arcing up into him and the back of her heels were on his black ass as she did so, then her toes were curling from the unwanted pleasure coursing throughout her entire body. Mouth open as she panted for breath, Liz eyes rolled as unbelievable pleasure shook her petite body, then she was clutching at his muscular biceps while arching up to get his entire cock up into her body, using the back of her heels on the back of his black ass to achieve the task. As her rapist slowed up the fuck speed, giving it to her nice and slow, his thick cock rubbing up against her ultra-sensitive clit sent her right over the edge. "Yes ............................oh, yes ..............................yesssssssssssss .............................just like that ..................................just like that! Ahhhhhhhhhhhhhhhhhhhhhhhhhhhhhhhhhhhhhhhhhhhhhhhhh!" Liz cried out a her body first went taunt, then began to shake in uncontrolled spasms. That when her rapist gleefully announce that "Prettee bride cum on Ramon's cock!" As Liz's body went limp her rapist sped back up to jackhammer speed till he groaned out loud as he ejaculated his hot potent semen up into her fertile womb. Feeling her body being touched and readjusted, realizing that a man had his face between her legs and licking at her sex, Liz couldn't not believe any man would stoop so low as to lick another man's semen out of a woman's soiled vagina. Upon opening her eyes and looking downward, she gasped upon seeing two men holding onto her husband and forcing to eat the vile semen out of her, then they pushing his head up on down to smear his face with the gooey mess.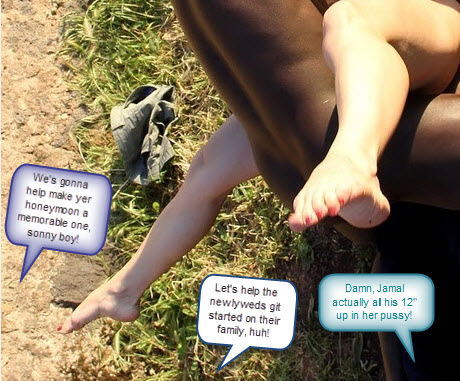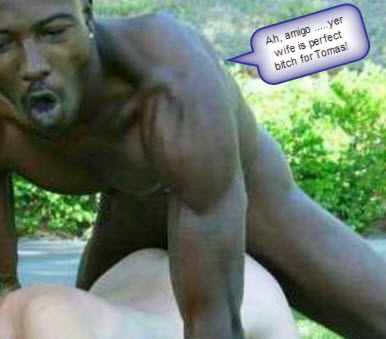 Watching the third guy shuffle his ebony body up into place between Liz's trim legs, the guy named Jamal was shucking at his thick long boner and rubbing it up against her dripping snatch. The guy crouching next to him on the left then taunted "We're gonna help make yer honeymoon a memorable one, sonny boy!" Then the guy on his right commented "Let's help the newlyweds git started on their family, huh!" Then the other abductor advised "Damn, Jamal actually has his 12" up in her pussy! Did it without popping off too quickly like he normally does!" As the bastard proceeded to speed up his fucking of Liz's pussy, Dave saw his wife's toes curling once again, apparently about to have an orgasm as she did with Ramon. Dave then saw Jamal turning back to look at him, saw him grinning widely before panting out "Jamal give yer prettee wifee nice little wedding present ...............................little Brazilian bambino!" And then the bastard was grunting out his lust with his cock full embedded deep up in Liz's fertile womb. Moments later, the bastard had pulled out of Liz and planted her feet flat on the ground with knees spread wide open, then was pointing out to Dave "Lookee ......................that's Jamal's baby juice oozing out of yer bride's hot little pussy!"

The tallest and most muscular of their kidnappers was the fellow named Tomas, one of those taunting him while Jamal was raping Liz, and it was now his turn to get in some fucking. As the black bastard got out of his pants, Dave was advised by him that "I later hope to be the one who succeeds in putting a bambino up in yer wife's little tummy ..............................but first I need to git me a feel of her tight little ass!" Dave watched as Tomas stepped onto the spread out blanket that Liz was on, saw him turning her body till she was up on all fours, then he was getting into position behind of her. "Ah, amigo ........................yer wife is perfect bitch for Tomas!" Dave was told just before the bastard lunged up into Liz from behind, right up into her virgin ass, causing his wife to shriek out "Eieeeeeeeeeeeeeeeeeeeeeeeeee ......................................eieeeeeeeeeeeeeeeeeeeeeeeeeeeeee ..............................stop ..............................stoppppppppppppppppp!"

Later, Dave was shaking nervously after the fellow named Abdul told Liz "Purty bride on her honeymoon needs a man to go to bed with her ........................tent set up fer yer honeymoon suite for tonight! Missee pick her husband from Brazil for tonight .....................then go fuckee up storm in tent!" When Liz shook her head 'no', that she would do no such thing, Abdul was fiddling with a sharp knife in his hand told her "Missee pick husband from Brazil or American husband will be a 'man' no longer! Iffy you don't, then you can watch me cut off your American husband's little weenie?" Seeing his wife nodding her head 'yes' that she would do as told, Dave breathed a sigh of relief in his wife's action to save his manhood. With Liz standing up and then walking pass the men who had lined up before her, Dave assumed that his wife would select the one with the smallest penis, but then he got the shock on his life when she reached with her hand and wrapped her trim fingers around Ramon's 13 incher. 'She went and picked the guy with the biggest cock to be her 'husband' for the night!' he shuddered. Dave's mouth dropped wide open as his wife proceeded to pull Ramon on along by his dong to the tent that would serve as the honeymoon suite!

With a propane stove for the coffee and another for eggs and sausages, the three men had gotten up early and got things prepared, then announced to the couple 'honeymooning' in the tent that breakfast was ready. Ramon appeared from tent naked while Liz had a blanket wrapped around her body. Dave was unsure as to how many times Ramon had gotten it on with Liz, for twice he had dozed on off and there was still activity going on in the tent when he snapped back to consciousness. As he was tied up, the abductors instructed Liz to eat first and then to take a plate of food and feed him. Asking his wife if she was okay when she brought the plate over to feed him, Liz advised that "Yes ......................as best as possible! I ..................I chose him ...................Ramon .....................since he's the most gentle .........................even if his 'thing' is the biggest of them all!" Nodding that he understood, Dave wanted to ask as to how many times he had fucked her during the night but thought better of it.

As Ramon had the pleasure of being her hubby during the night, the fun and games for the other men were to begin right after breakfast ..............................with a gangbang of Liz taking on all three men at one time! That first gangbang had Liz on all fours while straddling Abdul's cock, blowing Tomas, and getting sodomized by Jamal. On the second round, it was Liz straddling Tomas while blowing Jamal, and Abdul giving to her up the ass. And the third time before lunch was to be prepared, Liz got to straddle Jamal while blowing Abdul, and being sodomized by Tomas. Lunch was being prepared by Ramon when the third round began, and later once Liz fed Dave his lunch, the fellow Ramon got back in the act. Liz was to take on two men at a time, then after two pairs of men got done with her, there was a rest period for the men to drink up and celebrate before they broke up into different pairs to entertain Liz. Dinner came and went, with men pairing up to entertain Liz, then it was time for her to chose her Brazilian 'husband' once again .................................of which she wrapped her hand around Ramon's big black cock once again!

With three of their captors all drunk and passed out, Ramon fast asleep from exhaustion after fucking Liz twice and getting her to give him head, his wife then managed to slip out of the tent. Liz got out under the back of the tent she was in and got to where Dave was tied to the tree, got him untied and they made a run for it through the dense brush. After an hour or so with the sun coming up, they stumbled upon a young man in his late teens or early twenties who had just taken his fishing pole of his old rundown jeep and about to go fishing. Dave approached the young man, telling him that they had just escaped from four men who had kidnapped them, that they needed him to drive them back to the city. When asked if he had money to pay for the ride, Dave told the young man "They took my wallet and money ......................but I can get you money when we get back to the city! Two hundred American dollars ......................how does that sound?" The young man replied "No money now? Get paid when get to town?" "Yes! Yes ....................I'll give you two hundred American dollars when you get us to the city!" Dave advised. Then the young man asked him "Who were the four men? Any of them named ......................Jamal .................Abdul ...............Ramon .....................Tomas?" Dave had nodded his head 'yes' when each name was mentioned, but then the young man shook his head saying "They very bad men .........................they kill me if they find out I help you!"

Liz had been in the background listening to her husband try to negotiate a ride into town with the young man, had heard the names mentioned and heard Dave being turned down on his request due to the danger that he'd be risking by helping him, for money was not worth risking his life for. As Dave approached her shaking his head in despair, muttering that "he's afraid to help us", his wife told him "Why don't you go to where you can see the trail to make sure they're not catching up to us while I'll go and talk to him and see if I can get him to give us a ride!" Dave wondered as to what was up as he had given it the best shot he had, even going up to $300, but he followed his wife's instructions. But after being out of sight for a few minutes while his wife made her way to the young man, Dave quietly made his way back, then sucked in his breath as he gazed on his wife negotiating a ride back for them with the same young man that he had been unable to convince. Through the brush, Dave could see his wife leaning up to give the young man a kiss .......................but in looking closer, Liz had his black boner in hand and wanking him off! Kiss coming to an end with the young stud's mouth wide open as he groaned, then Dave observed a six foot white geyser arching upward towards the lake.

Back at where his wife had told him to go initially, Dave heard his wife approaching, then heard her voice saying "Honey ......................c'mon, let's go .............................I got him to agree to give us a ride into the city!" Giving his wife a kiss, Dave then inquired "How'd you manage to do it, honey? I offered him money but he just wouldn't go for it!" "Well honey, a woman can be quite persuasive in getting what she wants ..........................and a handjob can be quite the clincher!" he was told, quite surprised that his wife had not lied about how she had gotten the young man to change his mind. Then he admitted to her that "I did peek and see how it handled him so well ..........................he sure spouted a gusher up in the air!" Then his wife advised him that "The total price will be that $300 when we get into the city ....................................and he gets to sleep with me that first night we get back to the hotel!" About to object, Dave kept quiet as getting back to the city was the utmost necessity, and her fucking the young stud as partial payment didn't seem such a big deal at that point in time.

Introduced by his wife to 'Juan', the young man who'd be driving them back to the city, Dave got into the back of the jeep while Liz sat up in the front passenger's seat. In talking to Juan, they learned that he was eighteen years of age, had gone to school up to the 8th grade, that he helped out on his family's farm. It was a long ride back to the city, but there was entertainment for Dave as he observed his wife's petite hand move across the gearshift to come to rest on the young stud's thigh. With her arm moving further over, Dave tried to peer between the seats for a better view, but the view was rather limited due to the backrest of the driver's seat. Dave swore that he heard a zipper being undone, and from the way Juan was panting ...........................he'd be willing to bet that Liz was giving him another handjob! As the young stud was definitely groaning louder, Dave saw his right hand leave the wheel to reach over towards Liz, his hand coming to rest at the back of her neck and then he was pulling her over to the driver's seat. With his wife not making any objections, he observed her leaning over the console, observed Juan's crooked elbow on her back as he apparently now had his hand on the back of her head ..............................as his wife indeed gave him some 'head'! Dave would have been quite upset a week ago, but now he only wished that the back of the driver's seat wasn't blocking the best part.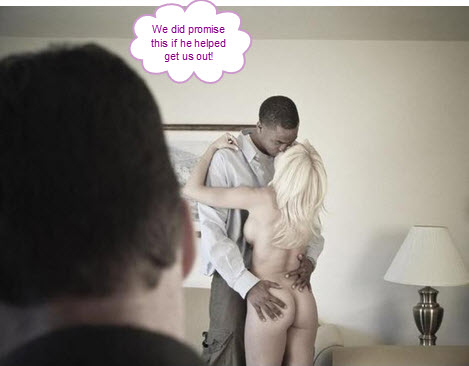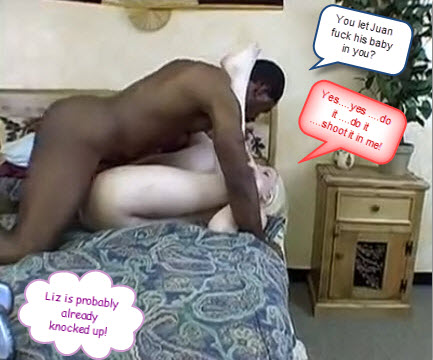 Peering into the bedroom when Liz and the young man were alone together, Dave watched as his beautiful wife began getting out of her clothing. 'We did promise this if he helped get us out! Well, Liz was the one who snuggled up to him, rubbed her hand over his bulging shorts and promised that she'd show him a real good time if he helped us out! I first thought it was just a ploy by Liz she's really going to keep her word to Juan as to what she promised him! I really thought she wasn't serious about following through with it - that she'd negotiate a money deal in exchange when we got back to town! Guess I was wrong about that!' was what went thru Dave's mind as he watched his wife on tip toes to kiss the young man after having performed a striptease for him.

As the fuck session went on in the bedroom of the hotel suite, Dave heard the teen ask "You let Juan fuck his baby in you?", apparently astonished that Liz was willing to let him finish in her. It was quite an erotic sight in the bedroom as Dave observed his petite wife bent in two, ankles on the broad shoulders of the young black stud as he boned her, then heard Liz pant out "Yes ......................yes ......................do it ...........................do it ...........................shoot it in me!" Just a week ago, Dave would have been quite distraught at the sight of his wife having sex with another man, but now it was excitement coursing through his body at the scene as he thought 'Liz is probably already knocked up! So what's another dose of potent baby batter from this young stud?'

With Liz not being forced in anyway to have sex with the young stud, Dave merely watched from the doorway, his cock tenting the front of his pants as he listened to his wife panting out "Ohhhh ....................you're so good .....................a real stud! God, fuck it to me ...................give it to me good!" 'Damn, to be eighteen again ....................he's going at it like there's no tomorrow! That might just be it .......................who knows when he'll have a chance to fuck a beautiful blond ever again!' Dave told himself while watching the stud pound away as his wife's petite body. Soon the stud began grunting out loudly, suddenly keeping his thick long cock fully buried up in Liz's body, and finally the muscular black body quivering told Dave exactly what was taking place on the bed.

With the bedroom occupied by his wife and her young stud, the constant sounds of the bed shaking from the wild activity upon it, used one of the sofa's cushions as a pillow as the sofa would be serving as his bed for the night. Exhausted from the ordeal over the past few days, Dave was soon fast asleep on the sofa, but his wife was not able to get any rest as yet while she entertained the young man who had saved them and brought them back to the city. Getting up a few hours later to use the bathroom, the noise from the bedroom made it quite obvious to Dave that the couple were still going at it, and he had to get a look. There on the bed was his beautiful bride of a week, totally naked with the young stud giving her a good 12" of his ebony manhood, with Liz's trim ivory legs crossing over his black ass as her ankles locked to pull him even deeper into her. "Oh, God ..........................oh, God .......................fuck me, Juan ........................fuck it to me ...........................fuck me with your big black cock!" he heard his wife pant out. Leaning up against the door frame, Dave continued watching till the mating came to an end, got to observe the stud withdrawing his ebony boner that was glistening from the wet fuck juices that coated it.

Dave then got to observe the wet matted curls of his wife's vagina, the evidence of the breeding that had taken place on the bed as there was a thick flow of goodies oozing out of her well fucked twat to soak into the sheets. Licking at his lips, he wondered if he should enter the room to give his wife more of the pregnancy protection that he had provided her the past couple of days .................................that of licking and cleaning all the gooey mess out of her well-fucked snatch. Dave then saw Liz looking up in his direction, saw her smiling and waving at him to come into the bedroom, indicating that he should lie on his back at the edge of the bed. Upon doing so, his wife turned to get onto her knees in a position where she could straddle his face, then she was rubbing her matted curls upon his face and he began licking at the juices oozing out of her well fucked twat. Upon hearing sucking sounds coming from above him on the bed, Dave realized that his wife had taken Juan's cock into her mouth and was giving him another blowjob.


End of Story.