White Slavery Shipment
(m/f, i/r, n/c)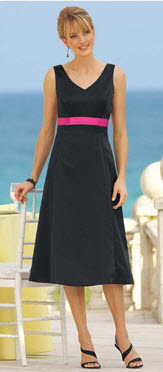 by
Black Demon
______________________________________________
Standard Disclaimer!
This is a fictional story intended for Adults only!
______________________________________________
************ ***********
Note: The story below is a story in itself. However, it is also a direct
continuation of the earlier story entitled: 'Cruise Ship – Day 1'
************ ***********
It was now two months following the Walkers' week-long cruise to celebrate their 'First Anniversary'. Lori Walker hung up the phone after getting a call from the nurse at the gynecologist's office. Staring blankly at her desk overlooking Wall Street, Lori's mind was in shambles as her heart thumped heavily in her chest. Things were so different now, in fact quite the opposite of how she had felt prior to going on the cruise with her loving husband.
The cruise had started off just fine, a nice dinner aboard the cruise ship, and a bit of gambling once they were in international waters. Exhausted from the days before in getting ready for the cruise, traveling long distance from their home to the docks, Lori and her husband had fallen asleep in one another's arms on the eve of their first anniversary. And as Lori was about to doze, she smiled upon thinking to herself 'Hmmm, it'd be so appropriate with tomorrow being our 'First Anniversary' – to conceive John's baby!'
Now, the nurse at the gynecologist's office give her the results of the tests taken two days ago, Lori shuddered at the thought of having being pregnant. Oh, the baby had been conceived on the day of her first wedding anniversary, while onboard the cruise ship, but not with her husband. In the early morning as the sun was rising, she had decided to walk around the deck a number of times to get in her daily exercise while John had slept in.
Guard let down on the cruise, just as Lori was to re-enter her cabin located on the blue level, she had suddenly been grabbed from behind by an unseen assailant. A large hand clamped over her mouth to muffle her scream, Lori then found herself being dragged back into the pitch dark interior cabin directly across from where her cabin was situated. Overpowered by the muscular master crewman of the ship, Lori found that she was no match at all up against her attacker who knew the lay out of the inner cabin by heart and was soon stripping her exercise clothing from her.
It had been absolutely horrible for Lori, feeling the horrid man's hands on her body, tearing at her clothing. And when he had ripped her bra away, she could only writhe about helplessly under his heavy weight as the bastard slobbered on her breasts, and then he was not only suckling at them but biting her. Nipples first stiffening from the unwanted stimulation, Lori then felt the pain as the attacker's sharp teeth nipped at them purposely, leaving teeth marks and bruises that would be clearly visible.
Legs forced apart with the assailant's massive bulk between them, her arms pinned above her head, Lori had then been brutally raped as her attacker thrust his erected manhood up against her. The stiff shaft first bounced hard off her cervix, sure to leave her badly bruised, and then she had felt him rear back once again. All Lori could do was shriek out in pain at the rapist's thick cock found its target, spearing right up into her. But with the door securely closed, the cabin was then airtight and virtually soundproof, causing her cries and screams to go unheard.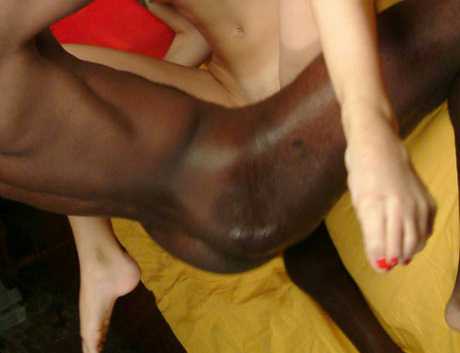 Never had Lori had anyone other than her loving husband! But worse, her husband was only half her rapist's size ………………….. where it counted most ………………in both girth and length of what was a monstrous cock tearing into her! Lori shuddered, recalling the awful pain and how she had sobbed "Stop …………………………stop …………………………oh, pleasseee ……………please stop ……………………it hurts ……………………it hurtsssssssssssss ………………………so baddddddddddddddd!"

Skewered as never before, though obviously not with the rapist fully within her as his body was yet up against her, Lori could only sob and cry in vain. Not believing that it could get any worse, Lori quickly found that was not so as her rapist then taunted her with "My sweet American beauty …………………………your skin so soft and smooth ……………………………..and so tight against my big hot ……………………African meat!" Learning that the raping cudgel with her was indeed a filthy black cock, Lori renewed her fight with an even greater vigor at that point …………………….but to no avail at all!
Cunny torn and stretched as never before, Lori had wished that she would die at that very moment, and that she would be put of her misery quickly. But the pain and savage rape had continued, with her vile rapist withdrawing and then slamming brutally back up into her, making it obvious that he would not quite till his vile lust was sated. With her rapist up to jackhammer speed, cock deep within her as his heavy balls banged repeatedly against her ass, Lori then heard the man groan "Ahhhhhhhhhhhhhhhhhhhhhhhhhh ……………….ahhhhhhhhhhh ……………….ahhhhhhhhhhhhhhhhhhhhhhhhhhhhh!" Spurt after spurt after hot spurt of hot thick filth was then began splashing deep within her fertile womb.
Only after her rapist had finished in her, with his cock beginning to dwindle in her cum filled twat, did it dawn upon Lori of the potentially horrid consequences that might result from this vile mating. Having gone off the pill six weeks earlier, having John use a condom between then and the cruise, it had all been so well planned by Lori as to when she would get impregnated. But her planning to get herself 'knocked up' included the very important part of her loving husband as being her mate …………………….not some unseen black rapist!
At that instant, realizing that her rapist might have impregnated her, she had sobbed out "Please ………………………….kill me ………….………………………….kill me …………………………..I don't want to live any more!" Lori thought that she suffered met the ultimate degradation and in fact did wish that she was dead right then and there. Sobbing in humiliation, with her body shaking uncontrollably, Lori wound then find that her rapist had even more sordid plans in which to defile her further.
In the darkness, pulled from the small bed, Lori found herself being forced to her knees. Swallowing in shame as her memory of that event was so clear, recalling how she was made to handle her rapist's manhood, to shuck at it and to then fondle his walnut-sized balls. And then came the ultimate humiliation upon feeling the thick fingers entwined in her long silky hair, being pulled to the bastard's loins. Sick to her stomach, Lori was forced to part her lips to admit the cock that had raped her into her mouth.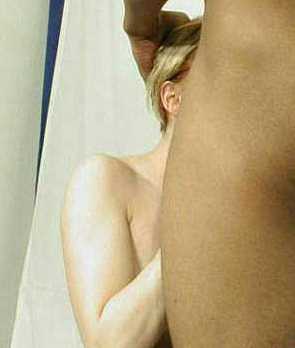 Never had she ever contemplated ever performing such a sordid and degrading sex act, not even for her husband in the privacy of their marital bed, and now another man …………………..a black man had his big filthy 'thing' in her mouth! Feeling so debased as the vile attacker was actually using his 'thing' to rape her mouth …………………….fucking her face …………………..in and out, in and out ……………………just as a man would have sex with a woman ………………..but only not in her mouth!
Above her came the loud "Arggggggggggg ………………….arggggggggghhhhh!" as the demented rapist bellowed as he spurted his hot slimy jizz right into her mouth, causing Lori to gag and retch. Then, the cock was suddenly pulled out of her mouth. With the strong muscular hands keeping her head in place, her vile attacker sated his vile lust by spurting his filth time and time again, right into her face. Forehead, eyes and nostrils were covered with the hot semen as the slimy goo slid down over her lips and chin.
Showered and dressed once again, Lori had stood at the rail looking down into the deep blue depths of the ocean. Had it not been for one of the ship's maids asking if she was okay and interrupting her thoughts, Lori would probably have ended it right then and there by throwing herself overboard. But that interruption had changed things, getting her to think of her loving husband once again, with Lori then opting to go to the open sundries shop to buy some much needed douche.
Needless to say, the remaining days of the weeklong cruise were just agonizing for Lori as she now had to do an about-face as to what had been initially expressed prior to the cruise ………………….that of expressing her plans for them not to leave the cabin at all! Now, when her husband got frisky and wanted some hanky-panky, Lori would act excited about wanting to take in some activity up on deck and saying that lovemaking could come later.
On that final night of the cruise, Lori was thankful for the moonless night that had the cabin in darkness, for there was no denying her husband on this night. Breasts still badly bruised, she had to grit her teeth to keep from moaning in pain when her husband suckled upon her tender pink nipples. Cunny stretched widely from the brutal rape, her body had readjusted over the days, allowing Lori to grip and feel her husband's much skinner penis.
Now, three months after that anniversary cruise, Lori sat alone in her hotel room a hundred miles away from her home. The supposed three day 'business' trip that she had to attend was actually completed that first day as scheduled. Two days had been taken as vacation days by Lori, one to keep the appointment she had made on her prior trip ……………………..seeing the gynecologist who had earlier confirmed her pregnancy! Only this time, it was to abort the baby fucked into her by the lusting black rapist. An added day to recuperate, then she would return home to her loving husband, who would remain none the wiser.
In the past few months, Lori had thrown herself into her work, trying to block that horrid nightmare from her mind. Filled with worry, then came her missed period, followed by the doctor's confirmation of her pregnancy. She hated to lie to her husband about her trip, just saying that she had to make the 'business' trip, which was true but just for that first day. 'It wasn't a lie!' Lori told herself, trying to convince herself that she wasn't lying by omitting part of the reason for her trip.
Now that the unwanted baby had been aborted from her belly, Lori breathed a sigh of relief that she no longer bore the stigma of having her rapist's seed growing within her body. All that planning, tying in her doctor's visits with various business trips, and now it was over. She could go on with her life from this point on, or so Lori thought, unaware that the man who had raped her had not forgotten the thrill of brutalizing her in the inner cabin of the ship.
While on that cruise, shortly after having raped the beautiful white wife, Omar Shoron's initial thought for the near future was 'Ah, yes, my dear Mrs. Walker ……………..Omar shall be calling upon you in the near future when the ship docks near yer home! I'm sure that when ya's git over the rape some, ya'll do anything, anything at all in exchange for not having those lovely pictures of ya made public! And so ya'll be more than willing to part with the expense of renting a luxurious hotel suite for us to spend time together during my free day in port!'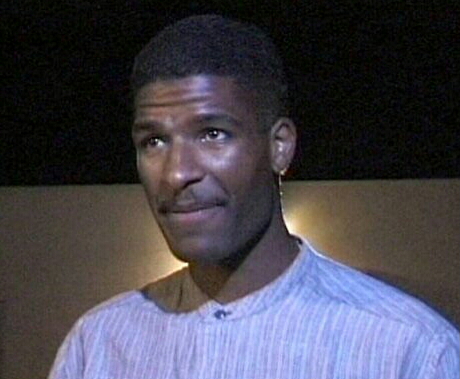 And then Omar had thought 'Hmmm, I's got me an even better idea! I's have ya service me that first hour and then ya'll make me a fortune that day!' With the crew consisting of hundreds of foreign nationals, the majority of them being male, Omar knew that these lusting males would easily part with their hard earned money for the chance of sampling a succulent American beauty like the lovely Mrs. Lori Walker. Getting a copy of the picture from the ship's cameraman of when that lovely beauty came onboard wearing that nice black dress with pink around the waist, that picture shown to the crew will have her booked throughout the entire day!'
Omar recalled thinking to himself back then, mentally setting the time allotted at 'Twenty minutes ……………….for each group of five!' And as for the price, Omar had mulled 'Hmmm, fifty bucks for a handjob or whack off on her sexy legs and feet! And a hundred-fifty apiece for fuck'n her mouth, cunny, or asshole! That's four guys at fifty apiece and three guys at a hundred-fifty apiece …………….for a grand total of six hundred-fifty bucks every twenty minutes!'

It was now six months since possessing that lovely beauty. Looking at the pictures taken with his digital camera, Omar's cock stiffened as he recalled the thrill he had derived at the expense of the lovely Mrs. Lori Walker on her 1st Anniversary. Initially, Omar had calculated 'Twenty-one horny bastards an hour ………………for ten full hours ……………………….my God, she'll wish she had thrown herself overboard after serving more than two-hundred guys in one day!'
It was four months later, when Lori got onto her computer at the office and opened up her business email that her body tensed and froze upon seeing a rather strange and sinister message. The sender's name was listed as 'Your African Rapist' while the title of the topic read 'Did you get knocked up on your anniversary cruise?' Hand on the mouse, Lori sat frozen in her chair, wondering if she dared open up the email. Wanting to delete and trash it, but she dared not without opening it up. Heart pounding in her chest, she placed the cursor on the email and clicked it open.
'Hello, Mrs. Walker!' it started off. A cold chill ran through Lori's body as she read 'You looked so beautiful when you came on board in your black dress with the pink around the waist! And I want to see you again …………………….with that sexy dress and heels!' Lori wondered how the bastard had gotten hold of her email address at work, then realized that she had made the reservation for the supposedly romantic getaway online while at work, providing her email address on the reservation.
Below that appeared a photo of her in that dress shortly after she had stepped on board the cruise ship, one that she did not recall posing for, as her husband was not in the picture with her. Then beneath the photo, Lori read 'The ship's going to be docking at Sweetport next Friday! Meet me at the Sweetport Motel, 9 a.m. – sharp! Got the corner room (#105) all reserved for us! Wanna see what the first thing you're gonna do for me?' Forcing herself to scroll further down the email, two other pictures appeared side-by-side, causing Lori to cringe as her stomach churned in revulsion.
She now recalled those two blinding flashes in the darkness of the inner cabin, when these two snapshots were taken. That first picture was of her while on her knees, hand wrapped around the thick black cock, with her mouth enveloping the filthy cockhead. The second picture was even more horrid, showing two thick streams of cum on her face, with the thick black cock in the foreground sending another spurt of jizz out onto her face. 'Oh, my God …………..my, God …………………what can I do? Do I dare not showing up?' Lori asked herself.
A personal day off taken from her job, with her husband merely thinking that she was off to her job earlier than usual that morning, Lori had her party dress hidden under the wraps of her long trench coat when she exited the bedroom. Needing that extra time to make the long journey to the town of Sweetport, Lori felt her heart pounding throughout the long drive, her body trembling with fear. Her stomach churned as she recalled how vile the slimy filthy tasted when her rapist did his 'thing' in her mouth!
Feeling sick to her stomach as she sat there in her parked car, Lori looked over across the way to the door to Room 105 at the far end of the shabby motel complex. It was now 8:55 a.m. and she had just five minutes to change her mind and depart, leaving it to chance that the vile man who had raped her onboard the cruise ship would not send those horrid photos to her husband and employer, as he had hinted doing in the email to her. But the pictures were so horrible that it would be devastating to have anyone she knew seeing them.
Tears flowing down her cheeks, Lori forced herself to open the car door and she then stepped out nervously. Taking off her trench coat and putting it in the back seat, she then walked towards the corner unit on shaky legs. The time on her wristwatch showed it was 9 a.m. exactly as she reached up to knock upon the door. Lori shuddered upon hearing that familiar voice calling out "C'mon, in Mrs. Walker! Door's open!"
Opening the door, Lori gasped at the sight before her as the bold black man was sitting naked on the armchair, fisting his long ebony prong that was jutting right up in the air. "Just in time for you to take over doing the honors, Mrs. Walker!" Lori was told as she quickly closed to door from having anyone witness her dilemma. Heart pounding madly, her eyes mesmerized by the waving staff as it was beckoning her forward.
Kneeling between the widespread muscular black thighs, Lori nervously raised her right hand up to grasp the taunting manhood, only to be told "Use yer left hand, Mrs. Walker! It's so much better seeing a wife's diamond ring sparkling, knowing she's got another man's cock in her hand!" Seconds later, both she and her blackmailer were staring at the glistening sparkle from her large diamond as her trim ivory fingers encircled the thick sticky black flesh.
The feel of the thick black cock in her hand brought back memories from her anniversary cruise, but only now Lori could see just how big and black it really was. Heart thumping, mouth watering, Lori instinctively parted her pink lips without being told. Drawn forward by the mesmerizing cock, the throbbing cockhead and flaring pisshole was beckoning her to open her wide. "Ahhhhhhhhhhhhhh, sweet Jesusssssssssssssssssssss!" came the groan of approval from above as her lips closed over the helmet of the thick cock.
The sparkle of her diamond ring, the feel of her saliva thickening in her mouth, reality set back in her mind as Lori thought 'Oh, my God …………………………I'm behaving like a true slut …………………………doing it on my own ………………….handling his filthy black penis ………………………taking it into my mouth!' But the thought of pulling her head away and off the pulsating cock was dashed by the large hands clasping the back of her head as her blackmailer began sawing in and out of her hot wet mouth.
Though she had not performed this degrading act since being violated on the cruise over six months ago, Lori had played it back in her mind over and over again a million times over. Nearly nine full inches had disappeared down into her mouth and throat, causing her admirer to comment "Damm …………………….ya's sure is a hot little cocksucker, Mrs. Walker!" If not for her fist grasping at the base of the stem, her nose would be buried in his short kinky hair and the foot long dong would totally have disappeared down into her throat.
Moments later, Lori's arms were immediately above the pink waistband of her black dress, clutching at her belly that had the hot thick swill for the walnut-sized balls that had spurted its filthy contents right down into the bottom of her contracting throat. Her stomach heaved, threatening to rebel against the hot slimy lake, as Lori shuddered at the awful deed that she had just performed like a pro. Just a slight trail of the sticky goo had out onto her tongue as the cock was pulled out of her throat, and the slick semen was now coating the roof of her mouth.
Her blackmailer had gotten up from the armchair and was now returning with a drink for each of them, handing her a glass and telling her "Here, drink this ……………….it'll warm ya up good!" Indeed, the liquor with a slight licorice taste felt so warm as it coursed down her throat and made its way down to her belly. Her petite body warmed up quickly, but little did Lori realize that the Spanish Fly laced drink would soon have her pussy in heat, with only the balm of hot semen the cure for her.
With her blackmailer resuming his seat in the armchair, Lori was ordered to provide him with some entertainment …………………..a seductive striptease! Reaching behind her neck, Lori unhooked the clasp of her dress, then started working the zipper down back. Squeezing at her now pulsating cunny, Lori tried desperately to show that she was in dire need, wondering how she could now be wanting a cock ……………………any man's cock fucking her horny twat!
Black dress now puddled around her heels, Lori stood before her admirer in only her lacy black panties and bra. Reaching back behind her with trembling fingers, Lori then unclasped her bra and was revealing her breasts to the admiring man, with her pink buds stiffening in anticipation of having his calloused hands and mouth upon them. A moment later, her thumbs were in the waistband of her lacy panties, working them down to expose her golden triangle to the smiling blackmailer.
Lori trembled as the tall muscular brute now had stood up and was towering over her naked body, with her standing there only in her open-toed black heels. Her eyes glanced down at the once again erect prong as it point up in a 45 degree angle out from the muscular loins. Large ebony arms now enveloping her, calloused hands clasping her asscheeks, Lori found herself being easily lifted up off the ground.
High up off the ground, Lori was in a panic as she out to place her hands on the broad shoulders in order to push herself up further. Panting fearfully, her heart pounded in her chest as she realized that she had been lifted up high enough and was being lowered right down onto the jutting prong. Though in much need of a fuck from the aphrodisiac, Lori feared the pain of having the monstrosity forced up into her tight slit once again, as it that had taken months for it to return to normal after the vile rape.
"Ohhhhhhhhhhhhhhhhhhhhhhhhh …………………………..ohhhhhhhhhhhhhhhhhhhhhh …………………………ahhhhhhhhh ……………………..oh, Goddddddddddddddddd!" Lori panted as her weight upon the jutting prong had her slit parting to envelope the thick bulb-like cockhead. "Ohhhhhhhhhhhhhhhhhhh ……………oooooooooooooooooooo!" she moaned, trying desperately to push down on the thick muscular shoulders to lift up from the thick spear. "Owwwwwwwwwwwwwwwwwwww!" she sobbed as the bastard lunged his spear up into her.
"Ahhhhhhhhhhhhhhhhhhhhh ……………………….ahhhhhhhhhhhhhhhhh!" Lori cried out as she suddenly found herself with her back against the motel room wall as the black bastard was now literally nailing her to it. As the foot-long dong skewered deep into her, Lori found her cunny responding by squeezing and clasping around the thick cock. "Oooohhhhhhhhhh ……………………ohhhhhhhhhhhh ………………ohhhhhhhhhhhh!" signaled the change of Lori's pain turning to pleasure as the thick black cock pumped in and out of her now dripping slit.
Trim white legs wrapped around his waist, Omar smiled feeling the beauty lock her ankles together, feeling the sharp spikes of her black heels brazing his thighs. Hands that were pushing up against his shoulders were now draped over his back as her sharp fingernails dug into him as he skewered up into her tight cunny. He loved hearing her change of tune, her moans "Yes ………………yes …………….oh, yessssssssss!' even though they were a result of the potent 'Spanish Fly'!
"Ooooooooooooooooooooo ……………………………..oh, Godddddddddddddddddd ……………………oh, Godddddddddddddd ………………………..I ………………I ……………………….I'm cumminggggggggggggggggggggggggggggggg!" Lori panted out in pleasure as the thick sent her skyrocketing into outer space. And then there was a bright flashing light exploding before her, accompanied by a hot eruption deep in her spasming cunny. With no where else to go, slick jizz began oozing out of their union joint as her cum filled twat was filled to the brim.
Twenty minutes later, blinking her eyes awake, Lori found herself face down on the mattress of the bed with large calloused hands moving her about till she was on fours. Still with her open-toed heels on, Lori felt her legs being pushed apart and the mattress sagged as her blackmailer got onto the bed behind her. 'God …………………he's going to fuck me like a dog ……………………..like a bitch in heat!' she shuddered.
But then, Lori shuddered in absolute fear, now realizing that it was not his intention to slip his cock into from the back. With the thick cockhead nudging up against her rectum, she shuddered and pleaded "No ……………………no …………………………..not back there! Please ……………………….please …………………………..I've never had it there! Stop ……………..stop ………………………it won't fit ……………its too big ……………….too biggggggggggg!"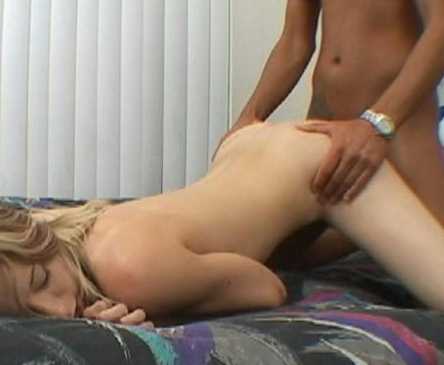 "Argggggggggggggghhhhhhhhhhhhhhhh …………………….ugggggggggggggggh!" came the cries of the lovely beauty beneath him as Omar took great pleasure in sodomizing the young wife. And then she went limp beneath him, passing out from the agonizing pain and humiliation of being fucked up in the ass. Slamming in and out of the sodomized beauty, Omar then groaned "Ahhhhhhh, yeah ………………………yeah, bitch ……………….yeahhhhhhhhhhhhhhhh!"
Having creamed up into her bowels, Omar smiled as he now looked down upon the ravaged beauty. Looking at the time, he smiled as it was just about when his fellow crewmen were told to arrive. Then came the knock upon the door and Omar admitted the three fellow crewmen whom he could trust completely. His initial thoughts of whoring the beautiful bitch out to the many horny crewmen onboard the ship had been scraped. Thus, Mrs. Lori Walker would be spared the indignity of servicing over two hundred men in a day's time.
For poor Lori, she awoke once again, only this time she was frightened as there strange men were fondling her nude body. "Meet Raoul, Nugyen, and Nigel!" Omar made the introductions by pointing out each of the men to her. Then Raoul and Nugyen were each grasping one of her ankles and upper arm, lifting her up from the mattress while Nigel slid beneath her. Lowered onto the fat black cock that Nigel possessed, Lori found herself being pulled forward to allow Nugyen to sodomize her while Raoul grasped her hair and sought entrance to her mouth.
Two hours later, Lori felt a sharp pain in her buttocks as the third go-round was about to come to an end with each of the three men getting to sample her ass, mouth and pussy. The hypodermic needle that Omar had stuck into her ass would have her out in a couple minutes, right after she came along with the three cocks erupting in her orifices. Lori was then rolled up in the thick bedspread as Omar pulled her car up to the side of the motel.
During his last cruise to Mexico, Omar had made some important contacts that promised to make him a very wealthy man. With his position aboard the cruise ship, the access to depths of the ship and the ability to get things on board without question, Omar realized that he indeed could start up a new business on the side ………………….that of being a white slaver! And having shown the owner of the brothel in Mexico the picture of the beautiful Lori Walker, the sum of twenty-five thousand American dollars was his upon making the delivery with the product in good condition.
'Yes, my little sweetie ………………………..I shall make certain that ya are to be delivered in good condition to Mr. Sanchez! He's going to whore ya out to all those slimy greaseballs down in Mexico who'd like nothing better than getting their brown dicks up a purty gringo bitch, so I'm sure he ain't gonna mind his little 'puta' learning her trade on board the ship so's I's can make some extra bucks on the way!' Omar had concluded.
The next day, police throughout the state were looking for the missing Mrs. Lori Walker. Was she actually 'missing' or did she want to disappear were the questions being asked once it was discovered that she had taken personal leave while her husband was totally clueless about it. Her car parked in a long-term parking lot at Sweetport would go unnoticed for weeks.
As for Lori, she awoke that next morning hearing the loud rumbling of the cruise ship engines far below deck. With Omar smiling at her, Lori stammered out "Where ………………where am I? Please ……………………I must go ………………..my ………………………my husband will be wondering where I am!" But Lori came to realize that she would be in for a long ordeal when Omar admitted the first of seven crewmen into the room.
For the three days it took before docking in Mexico, Lori Walker had been transformed lovely housewife into a sex crazed bitch that craved for a man's cock in her mouth, pussy and ass. Foot-jobs, wanking cocks by hand, Lori had become a pro in getting men off. And she didn't mind them cumming all over her, in fact, she'd pull the cocks being wanked by hand closer so they'd splash on her cheeks and neck.
With the crewmen having half-hour breaks, Omar had allotted each got their full break time to sate their lust. On this cruise, the men's breaks were signed up for in advance each day for morning and afternoon. And the men were quite willing to spend their hard earned money for a go at the lovely blonde wife, with many going for all pleasures during that three days – handjob, foot job, blowjob, pussy, asshole ………………and some guys even paid to straddle her back, while the other seven guys had at her, wrapping her silky blonde hair around their cocks and giving her a creamy shampoo consisting of hot jizz!
Omar took good care of his precious commodity, giving her shower breaks as well as seeing that she was well fed. And after she showered following the departure of the last group and had her dinner, he'd have her sleep with him till the next morning. Of course, he'd interrupt her sleep as Omar needed to sate his lust also. Keeping her constantly plied with the potent aphrodisiac had the petite blonde also in constant need, as Omar would find her straddling him in the middle of the night to extinguish that nagging itch between her legs.
On that third day, having showered clean dressed in her black dress and heels, Lori was heavily drugged and whisked off the ship by Omar and his trusted crewmen. Off the side of the ship, away from the main gangplank, a motor boat had been lowered and then was speeding off towards the docks across the way. Into a waiting van with Omar, the fat grimy Mexican driver then sped off down towards the seediest part of the town.
Twenty-five grand in his pocket after the excited brothel owner had inspected the prized package, Omar whipped out eight photographs taken while on the cruise down to Mexico. With the photos laid down on the table, the wide-eyed procurer of women was ecstatic as he pointed to a young brown-haired beauty and a lovely redhead. He was then advised by the fat horny bastard "Omar, I shall pay you twenty-five thousand apiece for these two succulent American beauties! They, along with the lovely Mrs. Walker shall make this the #1 brothel in the country!"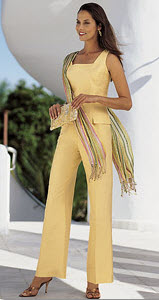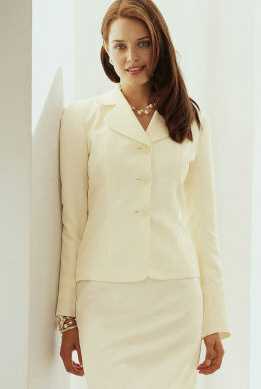 Picking up the photo of the first of the young beauty in a matching cream color pants and blouse outfit. Omar commented "Hmmm, look at those long legs ..................................having them wrapped around yer head when ya's eat her tasty pussy!" Looking at his notes on the back of it, advising "Ah, Mr. Sanchez ……………..an excellent choice! Mrs. Julie Armstong! This lovely beauty is 24 years old and on her honeymoon cruise …………………a third grade teacher on her spring break! And by the middle of her summer vacation, she shall be at your fine establishment! This teacher should be an excellent pupil fer ya ..............................ya'll enjoy teaching her how to please a man with her beautiful lips, heh!"

And then, picking up the other photo and looking at the back, Omar advised "Another fine choice, my friend! She looks so lovely and innocent in dressed in this white outfit, doesn't she? This lovely redhead is Mrs. Katie Sherman, on the cruise with her husband to celebrate her 25th birthday! An interior decorator, my good friend …………....…and she herself shall make quite an interior decoration here in yer brothel …………………especially when spreading those long ivory white legs for those lusty customers of yers! Oooohh, her skin is so fair ..........................and thinking of that special room ya have down below ...........................this beauty would surely decorate that dark and dirty dungeon of yers ....................................letting yer customers have her while that purty little thing's chained to the wall by those iron braclets ya showed me! Her screams will surely provide yer customers with added excitement!"
End of Story.