Mrs. Nadine Woolsey
For this lovely beauty, her special training turn would come when the last of the ship's crew got off duty, Omar smiled as all the sweaty men came filing into the stateroom. One of Omar's plan on the training and making of turning a naive innocent bitch into a ready and wanton whore was to be certain that the beauty be taught right from the start. When each crew shift getting off duty, they had the honor of breaking in a new beauty waiting for them in the crewmen's quarters below deck. Not wanting things to be predictable but instead unpredictable and exciting, Omar would experiment by having a different treat for the men in the terrified beauty's training. But on average, but the time the shipped reached its Mexican destination, she'd have gotten to experience in excess of: a hundred fifty cocks of all lengths and thickness ejaculating deep up in her raped pussy; sodomized by over fifty sweaty and horny men; jacked off over a hundred cocks; cum from over a hundred twenty cocks soiling her hands, arms, legs, feet, face, with all other parts of her body and hair not to be excluded; and having sucked off over a hundred cocks that ended up ejaculating in her mouth or face. So, Omar would change things up, see what would be the most exciting for the hot and sweaty men looking for some fun and games after getting off their shift.
Brought out of her dazed, first being zapped with a taser and then chloroformed to keep her unconscious, Nadine awoke to find herself gagged and tied with arms behind of her. A grinning giant black man, one who seemed familiar to her in a way, first touched her face before letting it trail down to her neck and then was tracing its way down to the tip of her left breast. She could only grimace as the now flicking finger had her nipple budding out from the unwanted stimulation, then soon her right one was getting the unwanted attention and reacting in the same manner. "Do you remember me, my dear Mrs. Woolsey? No, well I certainly remember you, especially when you were out at poolside in that red bikini!" she was asked. Then it dawned on her, recalling 'That cruise we were on three months ago! He was one of the crew greeting the passengers as they boarded!' Hearing the roar of the loud ship engines from below, now far louder than when on the cruise, made Nadine realized she must be far below the paying passenger levels. Her eyes widened in horror at the realization of where she was apparently read by her tormentor who smiled widely before advising "Ah, I see you do remember me from your last cruise! And if you don't remember my name from I welcomed you aboard, my name is Omar! Yes, you are once again aboard the same ship .....................for a free cruise to Mexico! But really, is anything 'free' in life these days? A little physical labor is all that is required of you in payment for your cruise down to Mexico, my dear!"
Trembling with fear as Omar had a large sharp pair of shears in his hand. Watching in terror as the bastard then slipped up at the bottom of her lavender blouse and began cutting it up to the middle where the vee of her neckline was. Then the sleeves were cut going up the length of each up to the neckline and then the remaining shreds were torn away from her body. One white heel removed and tossed aside, to be followed by the other side, then the black bastard was caressing her feet with his calloused hands. Then the bastard moved up and was working at getting the button to her slacks undone. That accomplished, with the zipper pulled down, Nadine tried to keep herself grounded on the floor but the pair of white slacks were worked down over her trim hips and down her legs before being pulled off completely and tossed aside. Left in only lacy white undergarments, Nadine shuddered as the bastard ran his large hands up from her ankles to her thighs and back down again. Now the bastard was taking in an interest in her feet, caressing first the top, then her toes down to the soles of her feet.
"Ah, such pretty feet you have, Mrs. Woolsey! And as others have bid quite nicely for the pleasure of shall we say 'main pleasure parts of your sexy body', Omar will be quite happy to get a nice footjob from you, my dear!" she was told. Cringing with disgust as the bastard unzipped himself, then reached in to draw out his big black manhood, Nadine pulled her legs back to keep from having to perform what he wanted of her. As the bastard reached out for her, Nadine lashed out with a kick, trying to hit him in the face or chest. But the bastard had been waiting for that, caught her by the ankle in mid-flight and blocking her kick. Cringing while feeling the bastard's mouth clamping over her curled toes, feeling his wet tongue licking them, Nadine realized that the sick bastard obviously had a foot fetish. With both ankles now in his hands, cock slicing up between her pink soles, Nadine did not put up any further resistance as she thought 'Better to get this sick bastard off this way than having him rape me!' Never had she had sex in this manner, only just putting her foot in her husband's crotch over his pants to playfully stimulate him, but not a full footjob to get him to ejaculate his sticky jizz.
Toes kept curled as the bastard pumped in and out of the cup formed by her feet, she then observed the bastard panting out and just knew that he was about to pop his sticky load. Then it geysered up against her curled toes, webbing them all together, and then he tossed the rest of his sauce on her pink soles. As the bastard zipped himself up, Nadine wondered as to what he was doing when padded straps went under her arms and over her shoulders. Nadine felt a tug on the middle of the connecting strap, felt it being somehow being tied and connected to the ropes binding her wrists, then Omar got up to place a short step-stool the middle of the room. Lifted up to her feet but the black bastard, forced to walk with her cummy feet to the where the step-stool was located few feet, she was forced to step up upon it. A long rope was tied to her bindings behind of her, then put through the hook on the ceiling before being pulled till she was standing on tip-toes. And just minutes later, the ship's whistle blew to announce the changing of the shift, then men began hustling down the hallway to get a good spot in the stateroom.
Kind of making sure a big black bastard ended up winning first dibs on raping this beautiful redhead American bitch, Omar made mention to Santu of Sudan to 'Up your bid by three hundred and the white bitch is all yours to 'ruin'!' With that tidbit orchestrated a bit, Omar then filled Santu in on his devious plan on getting things kicked off for the beautiful American redhead. Once the room was filled, Omar signaled one of the men to take of her gag, a means of getting the men excited when she cried and pleaded to be spared the indignity that they had in store for her. Indeed, the men were all aroused upon hearing the lovely beauty sob out "Please ......................please .....................please don't hurt me ........................please, I have a husband ...........children to take care of! Please ........................please let me go ...............................let me go .............................I beg you!" Then Omar stepped forward, stood next to her, traced a finger on down her trembling thigh. Then he told her "Let me introduce you to Santu from the country of Sudan!" With the tall black man of some 7'+ and 320 lbs+ stepping forward, the look in the beauty's frightened face told it all, that she was scared shitless! Then Omar told the Sudanese man "Go on, Santu, show our guest her the magnificent body you've got under there!" Once Santu had completely disrobed, began stroking the tree trunk of a cock with his fist, even the crewmen were 'oohing' and 'aahing' at the sight of his black monstrosity. Looking at the redhead's reaction, her open mouth in awe and eyes bugging out of their sockets told it all.
Other than her sniffling, the entire room was silent as the tall giant named Santu walked menacingly towards her. "Please ...................please .........................oh, please!" was all that Nadine could whimper out as large black hands reached out to her and long ebony fingers were being molder over the mounds filling her lacy bra. Massaged like he was looking to find some ripe melons, Nadine closed her eyes and tried to will herself not to respond in any way. But the thick thumb and forefinger squeezing and toying with each nipple had them roused to flint like status and they were quite visible with them denting her lacy bra outwards. Then with her bra clip located in the front, the protective garment was being removed and exposing her bared breasts. Ooohs and aahhs could be heard from the men around the room, many of whom and never seen such cherry red nipples in their entire lives. She groaned as Santu closed his calloused hands over her bare breasts and pinched at her sensitive nipples. The Sudanese was so tall that his jutting cock poked up against her stomach as she stood tip-toed on the stool. Then he was inserting his thick fingers into the waistband of her panties, working them down over her trim hips, letting them flutter on down over her thighs and knees to puddle on the stool around her feet. More oohhhs and aaahhs followed as all wanted to see the true redhead that she really was.
For Santu, he was only too happy to do as Omar had asked of him, owing it to him for giving him the heads up on how much to bid to win this succulent American beauty, a true redhead to top it off. Everything had been set up perfectly, the chosen stool just the right height, one that he would soon kick away out from under her. When that happen, the beautiful bitch would need some kind of support to keep her arms from being pulled out of their sockets. And to obtain that much needed support, she could only get it by wrapping her ivory white legs around his coal ebony waist, making it quite an erotic sight. Also, with her doing so, it would have his monster cock in right position. Keeping a slight hold under her butt when he kicked the stool away, wanting her to feel the excruciating pain a bit should she not get any support, Santu then grasped her ass firmly and lifter her a bit to ease the pain. Head on the side of hers, he whispered "Wrap your sexy legs around me, prettee missee! Do it or I'll let go and your arms will be pulled right out of their sockets!" Once feigning to let go, the American beauty quickly wrapped her sexy white legs around him. Holding her with one hand, using the other to get his cock point up at the right angle, he then let go of the bitch. "Eeeeiiiiiiiiiiiiiiiiiiiiiiiiiiiiiiiiiiiiiiiiiiiiiiiiiiiiiiiiiiiiiiiiiiiiiiiiiiiiiiiiiiiiiiiiiiiiiiiiiiiiiiiiiiiiiiiiiiiiiiiiii!" came the screech as her falling weight had no where to, other than her pussy spreading wide to envelope the jutting prong. Holding her in his arms securely, Santu then moved to step up upon the discard stool, allowing him to fuck his entire 13" length up into her.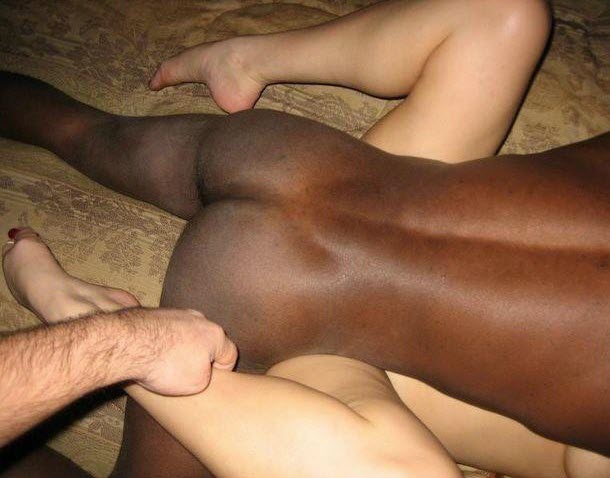 "Pleaseeeeeeeeeeeeeeeeee ..............................................pleaseeeeeeeeeeee, stopppppppppp ...................................stoppppppppppppppp .................................it hurtsssssssss ...........................it hurtssssssssssssss! Pleaseeeeeeeeee ................................it's too bigggggggg ...........................it's too bigggggggggggg!" Nadine cried out as the big giant jogged up more his his log into her. Intimate with a college boyfriend her freshman year, then after meeting her husband-to-be in her senior year, those were the only two males she had been intimate with. Needless to say, a six-incher and then a seven-incher could not even compare to what this Sudanese was in the process of fucking her with. The pain was unbelievable, making her wonder if just left hanging from ceiling without the stool under her would had been a better choice to have made. But now it was all too late to change her mind, for there was no way she could get any leverage in which to push her up and off the thick cock that was tightly embedded a good six inches deep. She could only grimace and sob each time the Sudanese bastard fucked yet another inch up into her raped slit. It was made worst when the men began chanting "Fuck the American bitch .............................fuck the American bitch ..............................fuck a black baby up in her tummy!" The awful consequences from this vile mating worried Nadine, for what if the bastard did impregnate her with his Sudanese seed, wondering 'Would it end up as black as him, like charcoal?'
The men in the cabin all cheered and applauded the show that Santu was putting on for them. Many had never before seen a red haired woman before, and this one was exceptionally beautiful with such ivory white skin, making the contrast of her body and that of Santu's so erotic and exciting. To see her agony and hear her scream as Santu's lengthy black cock began to disappear up into her snow white body, it was quite a sight to behold. Many had to wonder just where Santu's big black cock had disappeared to, especially with the beautiful redhead so petite in stature. And to see the American bitch with her sexy white legs wrapped and locked around the coal black body was an unbelievable sight to see. A good fifteen minutes after the rape had commenced, the Sudanese could be seen thrusting up with all his might, slowly withdrawing, then thrusting up with all of his might once again and keeping his dong buried to the hilt. "Arrrrrrrrrggggggggggggggghhhhhhhhhhhhhhhhhhhhhhhhhhhhhhhhhhhhh!" was his bellowing cry that told everyone in the room what was happening at that split second, that he was spurting his baby batter deep in the fertile womb of the pretty American bitch.
Stepping down off the stool, moving it on over under the tied beauty, Santu then unwrapped her legs from around his waist and had her tip-toe upon the stool once again with cum to be seen dripping from her raped hole onto the stool below, also the gooey slime trails could be seen oozing down both her inner thighs. "Good! Very good, Santu! You have bred the American bitch very well!" Omar congratulated the Sudanese with a pat on the back for his performance. Then Omar pulled out his list, call out for "Chiang .............your turn .................bring that taller stool from the corner with you!" Then to Nadine, Omar advised "Now that you experience a man from another part of the world! Chiang, my dear, is from Korea! Maybe his cum will be hot like Kim Chee, huh?" With the Korean giving up nearly fifteen inches to his Sudanese crewmate, the taller stool would be needed for him to be in the right position to fuck the American bitch in a similar fashion. Upon the taller stool, the once the Korean got a grip on her ass cheeks, Omar kicked her stool away from under her feet, forcing Nadine to wrap her legs around Chiang's waist. Cock much smaller but the Korean made up for the lack in size by his energetic humping of the American beauty, like the energizer bunny, he kept going and going at quite a rapid pace. Finally he was done, stepping off and that stool was used for the beauty was standing flat-footed upon with cum flowing down her legs as if Chiang had taken a piss in her rather than cumming in her. Next up, Nadine was being introduced to a burly Greek and another fuck session commenced.
It was a couple hours that she had been hanging from the ceiling before she was let on down, but it was not till all thirty men had raped her in similar fashion. Totally defeated at this point, after being told by Omar of her destination, Nadine knew she would never again be seeing her husband and children ever again. Even is she was to escape, now or any time in the future, she could not go back home. 'Damaged goods' was now how she looked upon herself, damaged beyond any repair, and now it was her entire life was over. Uncaring as hands touched and explored her body, Nadine felt that they couldn't do anything worse to her at this point. But with stools taken out of the way and a large mattress thrown on the floor, Nadine would soon find out just how wrong her thoughts were. On the mattress, on all fours now, her mind was really out of it and not paying any attention to Omar as he introduced her next companion coming from the country of Chad. She soon knew it had to be another big black giant of a man, for it was another monster of a cock, this one being forcibly shoved up her virgin ass. "Aieeeeeeeeeeeeeeeeeeeeeeeeee .....................................aieeeeeeeeeeeeeeeeeeeeeeeeeeeeeeeeeeeeee ...........................................aieeeeeeeeeeeeeeeeeeeeeeeeeeeeeeeeeeeeeeeeee!" came her painful screams as the 6'8' black from Chad was behind of her and shoving more and more of his twelve incher up into her butt. And when her cries and teeth clenching ceased, Nadine heard Omar introduce her to Edwardo from Ecuador, then her head was being lifted some and the bastard pushed his cock into her mouth.
Captive #4:
Early on Day 2 of the cruise was a scheduled stop in Virginia, where the remaining 40% of the passengers were to board for the cruise to Mexico. A crate of cargo coming from North Carolina was a part of the first load of baggage and cargo to be loaded up into the cargo hold when the ship docked. Cruise ship passengers from the surrounding areas were there waiting prior to the boarding time, but one unscheduled or unbooked passenger was boarding through the cargo hold. Drugged, bound and gagged, was that of a 29 year old beauty who had gone missing the prior day. Slipped aboard the ship in a crate marked to be delivered down in the level of the crew's quarter just one deck above the cargo hold, there was Omar waiting for the precious cargo to be delivered. With the special code markings on the outside of the crate, the men handling the incoming cargo made sure it was given top priority, knowing from experience just how valuable this piece of cargo would be during the duration of the cruise to the Port of Calista. For Omar, upon opening the crate upon its delivery, he smiled to his cohorts and commented that "Lavender must be the color of the season, huh! Turning out to be my favorite color!"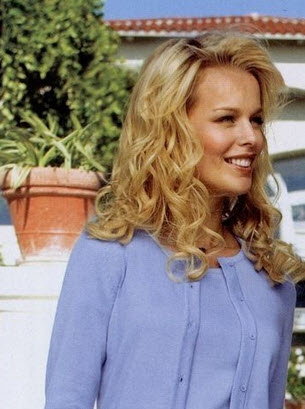 Mrs. Terri Newton
In a mid-sized town on the eastern seaboard o the state, a pretty blond wife and mother of a 3 year old had suddenly disappeared from job in the Office of Economic Development. The job of Mrs. Terri Newton was one involving the review of request for funds received from both State and Federal levels. Her review would involve her input on the companies requesting funds from the county after reviewing both the application and walk through of the company requesting the funds. With her car in the parking lot, purse and wallet in her desk, it was a total puzzle as to what could have happened to the missing beauty. Noticeably missing following her normal lunch break, co-workers gather round in the boss's office to get information they could gather on their missing colleague. Police were called in and talking to the office workers, her calendar scrutinized for any appointments, and a search of the surrounding block was being done. Dialing her cell phone produced ringing of it while in her purse that was in her desk. 'So where could Terri be?' was the question everyone at the county building were asking. The co-worker with whom she had coffee with gave the time line of their having gone to coffee at 9:30 a.m. and returning to their desks with Terri grabbing a folder as she was going to a nearby company that was applying for funds. A call made to that company indicated that she did have an appointment but hadn't shown up. The company that she had the appointment with just thought it might be some sort of miscommunication, not wanting to make any waves as it was the one asking for funding, thus had refrained from calling. With the appointment noted for 10 a.m., that narrowed it down to when Mrs. Newton was accosted and/or abducted, now making it just over four long hours from her time of disappearance.
When the commencement of an intensive search being done, it was far too late as the beauty was a couple hundred miles, in a different state and being transported in a sealed create in the cargo hold of a cruise ship destined for Mexico. Both city and state police were totally stumped, wondering where the 5'4" 115 lb blond beauty could have disappeared to. By the time her photo was displayed on the 10 o'clock news at night, the missing beauty was hundreds of miles away and far out to sea, with newscasters asking for anyone having seeing the missing beauty that day. Although there were no incoming calls relaying a sighting of the beauty that day, at that very moment there were over 30 pairs of lusting male eyes focused right at her. But even if any of these 30+ men had seen the 10 o'clock news being broadcast, none were interested in reporting having found the missing young beauty. In the depths of the cruise ship, where the crew members' quarters were located, the beautiful Mrs. Terri Newton was bound and gagged while dressed only in her matching pair of lacy baby blue undergarments and her 3" white heels. Stripped of her lavender sweater and matching dress, both of which had been cut away before being shredded, she was made to stand facing a bunk bed with her arms widespread with her wrists tied to the corner posts of the top portion section.
Prior to being forced to stand and being tied to the bunk bed, Terri was slowly coming out of her daze, and wonder just where she was. Unable to move, her heart pounded in her chest as she looked down to see her wrists bound together by some rope and the same applied to her ankles. Trying to scream for help, she then found that her mouth had been taped over. Shuddering upon feeling a large hand suddenly stroking her hair, Terri turned to see a somewhat familiar face of big muscular black man. "Remember me, Mrs. Newton? Bet you'd like for me to fetch you another margarita right now, huh? How's that for a clue? Remember me now?" the man asked her. Her eyes widened, remembering being up at poolside on the recent cruise she had taken, this was the man who had come over when she waived at him to order a drink. She had then ordered a margarita from the man, only realizing upon his return with the drink that he was not a waiter. "Ahh, I see you remember Omar, my pretty Mrs. Newton! Well, I certainly remembered you from the cruise! Thought I'd treat you to another cruise on the ship, this time it's destined for Mexico! I never forgot you from that last trip, always wanted to touch your long beautiful golden hair!" he told her. With Omar standing up before her and began unzipping himself before her, Terri was terrified to death as to him violating her.
Shaking with fear, unable to scream, she heard him say "Don't worry Mrs. Newton, I'm not going to hurt you! Just need to get a little relief cause looking at you have given me such a hardon! Now just reach on out and grab onto Omar's dick! C'mon, git me off with those pretty hands of yours!" As she shook with fear but did not move to comply, Terri then was threatened by "Either you reach out with your pretty hands and get me off or I'll take the tape off your mouth and you can suck me off!" At that point, the decision was easily made and she reached out with her bound arms to grasped the bastard big black fuckstick. Shuddering in disgust as her fingers made contact with the sticky flesh, she turned her head away as she began pumping at the repulsive thing. Pumping and pumping at the growing stem, Terri glanced over at the bloated head, saw that it's pisshole was flaring wide as if it was actually breathing. With it aimed in her direction, knowing what would result when it popped, she then tried to guide it over to the left to get it to spend its filth off to the side of her. "Oh, yes, that's it .............that's it, Mrs. Newton .................Omar's nearly there ...................almost ......................almost!" the man panted above her. Wanting it over, she then pumped harder and harder, faster and faster to bring the black bastard off with her hands. "Ohhhhhhhhhh, yeahhhhhhhhhhhhhhhh!" she heard him pant out and Terri knew the ordeal would soon come to an end. She felt it lurch in her hands, but then the bastard was clasping her hands in his larger ones, turning towards her. She cringed with disgust at the first spurt hit her neck and began flowing down to soak into the neckline of her dress. Spurt, spurt, spurt ....................s p u r t t t t t ! Now the front of her lavender sweater were streaked with the bastard's sticky goo. As she was pulling her to her feet, Terri was then told "Don't you worry none about your soiled clothing ..................I'll cut'em off ...............................you won't be needing them any more!"
The set-up for the crew with this luscious little beauty, was the highest bidder getting first dibs on whatever he wanted to claim ................cunt or ass! As it turned out, it would be a coin toss for Omar to do in the cabin as the terrified beauty looked on in horror. With two winning bids being identical, the coin toss would have to determine the winner being that of Hakeem of Somalia or Mustaf of Zambia, both from the African continent. So, winner of the coin toss would get to strip off her undergarments before making the big decision, that of raping the American cunt of have her screaming like a banshee by shoving it up her more than likely virgin ass. Virgin ass?? Indeed it was as Terri would never let her man perform such an indecent sexual act on her, as she'd certainly have label that uncouth bastard as a real sicko. When she had learned about such a sex act in college from some of her sorority sisters, Terri was in total disbelief that anyone could find sexual pleasure in something so crude and vulgar as that. Tied to the bunkbed while gagged with heavy tape over her mouth, Terri could only look back over her shoulder as Omar called the two men tied on the bidding to the center of the room. Both men, from the African continent and coal black in their features, each proudly had their foot-long plus manhood on display for all their crewmates to envy. A flip of the coin was done, with Hakeem of Somalia declared the winner, the man who won the right to possess her first. Body shaking with fear as the winner of the coin toss was fisting his enormous manhood while approaching her, Terri could only pray that this was just a nightmare taking place.
The first item on the agenda for Hakeem was to take tape off the terrified beauty, wanting to hear the music ................that of her crying, pleading and screaming her head off when he stuck it to her, only 'where' he was going to stick it was the question he needed to make a decision about! Removing the tape brought about immediate results as the pretty American began sobbing and pleading "Please ..............................oh, please ..............................please let me go ................................please, please don't hurt me!" Unhooking the clasp on the back of her bra had the protective cups falling away from her breasts, which Hakeem was soon cupping in his hands and thumbing the hardening nipples. As he played with her pink nipples, rubbing the tips with his flat palm, Hakeem smiled as the beauty tried to fight her natural response was now tossing her long blond hair from side to side. Now to take down her panties, getting his fingers in the waistband and pull them down over her trim white hips. Making her stand straight, the lacy garment was soon around ankles and atop of her white heels. Lifting a leg, he peeled the pair of panties off her heel, then did the same to the other side. Balling up the lacy garment, Hakeem brought them up to his face so he could inhale her sweet fragrance, then tossed them to his watching crewmates as a scramble for them ensued.
Rubbing the beauty's soft white ass cheeks, Hakeem just couldn't decide what to do, that of fucking or buggering the beautiful American bitch! Playing to the crowd, he made the bitch bend over with her legs spread wide and her head now under the top bunk, then after rubbing the length of his cock up and down her slit Hakeem looked over questionably to his crewmates. "Do it! Do it! Rape the American bitch!" were cheers from the crew. Then he spread her ass cheeks for them to see before moving his cockhead up there. More cheers came from the crew, this time to bugger her, but then the terrified beauty screamed out "No ..............no .....................no, please ................................don't .......................................I've never had it back there!" That last comment quickly made Hakeem's mind up for him as he was not about to pass up the opportunity to being the very first man to cop her cherry asshole. With his cockhead in place, he got a firm grip on her trim hips, then lunged up into her. "Aieeeeeeeeeeeeeeeeeeeeeeeeeeeeeeeeeeeeeeeeeeeeeeeeeeeeeeeeeeeeeeeeeeeeeeeeeeeeeeeeeeeeeeeeeeeeeeeeeeeeeeeeee!" came the high pitched screech of pain from the buggered bitch. Another thrust produced another loud screech, then another one, with Hakeem loving to hear more and more of the sweet music. Finally there was just her whimpering, but he had gotten it all up into her, every little bit of his cock and his black balls were now bumping against her soft inner thighs.
The beauty's arms were strained, hanging from the corner posts as Hakeem reamed her asshole out good to the chants of his crewmates chanting of "Rip the bitch a new asshole, Hakeem! Rip the American bitch a new asshole!" He was so glad for having been one of the top bidders and especially for the fortunate results of the coin toss. The prize he had won was certainly worth over that one month's salary! With all the food and drink available for the crew, he didn't care if he had no money to show for it when the year was over, so long as he could manage to cover his the costs of fucking these beautiful bitches on the cruises down to Mexico. 'Man, if only every cruise was like this!' he and every crewman were thinking. With only whimpering now coming from the sodomized bitch, Hakeem rammed hard up into her, first once and then he started hammering away. With no mercy, he buggered the bitch till the time came to bury the bone, causing him to pant out "Uggggggggggggg ........................................ugggggggggggggggggg .....................................ohhhhhhhhhhhhhhhhhhhhhhhhhhhhhhhhh!" Breathing in deeply and then exhaling, once more and then again before rubbing his up her soft creamy white as and then pushing it some as he pulled out of the tightly gripping asshole. Using both hands to spread her ass cheeks, he showed his crewmates the bitch's new asshole to them, of which a thick blob of goop oozed on loudly 'plop' onto the metal floor below.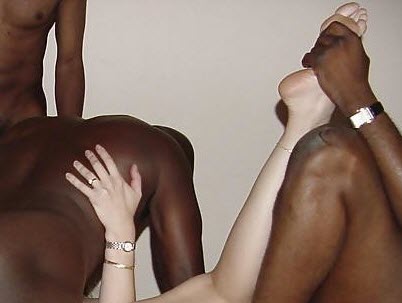 With Hakeem done with the bitch, Mustaf stepped on forward with his Zambian club in hand. There was no decision to be made as his preceding crewmate had made it quite easy from him. No way was he going to stick his wick in bitch's new asshole, not when he had first crack at the beautiful American bitch's tight little pussy, which had been his first choice all along. Getting a fresh clean American bitch, being the first foreigner to have to chance of impregnating her, what more could any man from Zambia ask for in his lifetime. With bitch's head hanging down in defeat, Mustaf ran his hands up her very soft and sexy body, down over her trim hips, caressing her soft smooth thighs and then back up her body once again. Now cupping her perfectly formed breasts, he teased her her nipples back to hardened buds, then used a hand to get his boner into position. Sliding both his hands on down to get hold of the front of her inner thighs, he then made his favorite dream come true ........................the first to possess a beautiful American blond bitch! To hell if it was by rape, how else would a black from Zambia achieve such a feat otherwise. "Noooooooooooooooooooooooooo ......................................nooooooooooooooooooooooo .............................noooooooooooooo! Kill meeeeeeeeeeeee .....................................kill me instead ......................please ..............................pleaseeeeeeeeee ......................just kill meeeeeeeee!" came the whimpering plea from the beautiful blond. Smiling with delight, Mustaf turned to his fellow crewmates to let them know that "She's tight ..............................real tightttttttttttttttttttttt! That hubby of hers must have a twig for a dick, heh, heh!"
Her cries and pleading her him to kill her instead made the rape so much more enjoyable as Mustaf and there was still five plus more inches to skewer her with. And now the chanting commenced as the crew cheered "Rape her, Mustaf! Rape the American bitch! Fuck a baby in her! Knock the pretty bitch up!" As he held her thighs in place, Mustaf proceeded on doing what his friends were cheering him on to do. Humping away after getting his lengthy dong all the way up her so tight snatch, the sobs and whimpering from the raped beauty served to make him even harder and hornier, leading Mustaf to jackhammer her in hopes of breeding her in the process. Determined to put on a good show for his mates, also wanting to show them his staying power, Mustaf continued giving the bitch good long lengthy strokes as she now hung there lifelessly. After fifteen full minutes since the rape had commenced, the beautiful American bitch was now pleading softly her one and only wish, asking them to "Kill me, please .............I beg you .................please, I beg you .....................kill me!" Mustaf was now about to shoot his powerful weapon right up in her, not to kill the beauty but in the hopes of impregnating her with a little black baby from Zambia. "Argggggggggggggggghhhhhhhhhhhhhhhh ...................................ahhhhhhhhhhhhhhhhhhhhhhhhhhhhhhhhhhhh!" Mustaf groaned as he shot his gun up in her pussy. A minute later, with Mustaf stepping away from raped beauty, cum could be seen dripping from her well-fucked cunny as the puddle on the floor began to widen in size.
It was the name to be called by Omar was Nguyen Dao, a chef originating from Vietnam whose parents had been killed in a bombing during the Vietnam war. Smiling widely as he began shedding his clothing, this gave him much satisfaction in getting some sort of retribution for having to scrape by from when he was only nine years of age. His decision was like that of Mustaf, the chance of knocking this beautiful American bitch up with his Vietnamese baby was the deciding factor. Then Omar was reading off there more names so they could take their turn once Nguyen Dao did the bitch. Although the crew knew each other and most knew from what country that person was, Omar wanted the bitch to hear what international fuckfest this was to be, like in an American baseball game he loudly announced the batters up on deck "Next up is Miguel from Spain, followed by Olaf from the Ukraine, then Lorenzo from Sicily. Each man would get his choice, fuck the bitch or bugger her, and Omar had to wonder what the final scoreboard would look like at the end.
Final scoreboard at the end of the thirty crewmen in the room, according to Omar's scorecard, it read: 19 had raped her, while 11 got to bugger her! Now Omar had the mattress of the top bunk taken down and tossed in the middle of the cabin's floor. The fucked out bitch was cut down from the binding attached to the corner posts of the bunkbed, lifted and carried by two big brutes and placed kneeling on the mattress. Omar stepped forward, pulled her head back by the hair, taunting her with the next announcement that "Now that you've gotten to experience what very few women have, that of an international fuck fest, it is now time for you to sample some international cuisine! First dish for you to sample, my dear, is Chinese! And Min Ho is there in the corner getting the dish ready to serve and it comes with some creamy hot sauce at the end!" Turning her head to see Min Ho in the corner pulling off his pants and underpants, had her watching him massaging the meat in his hand in preparation for serving it to her. Then Omar added "And after eating Chinese, Minbu from Bangladesh has a hot meal prepared for you! Then that will be followed with a Nigerian dish to be served to you by Baswami!" Fucked out and uncaring at this point, the only resistance put up when Min Ho rubbed his Chinese cock up against her pink lips was that of her shaking her head 'no'. Hair yanked back hard by Min Ho, the beauty merely shut her eyes as the cock was fed to her, she was now getting a Chinese dish not found on the regular menu at any restaurant.
"Ah, my dear, was dinner filling for you?" Omar asked with a slight chuckle as cum dribbled down her chin from her partially open mouth. With being fed by the thirty crewmen, the dazed beauty put up on fight at all as she was pulled down onto the mattress and spreadeagled. Omar then announced that he'd be calling names out at random, six at a time, with the first name called getting his choice on how he'd get his pleasure. The first guy to have his name called wanted another fantastic blowjob from the American bitch and thus knelt above her head, pulling her head back some so he could feed her his dick. Second one had her ass last time up and now wanted to fuck her. Third guy went for one hand and wrapped her manicured fingers around his swollen cock. Fourth and fifth went to peel off a 3" heel and proceeded to run his bloated cockhead up her tender soles and toes. There was only her free hand left for the sixth name called but he was quite happy at just getting the opportunity for a handjob. This would continue on till about 45 minutes before the next shift began, time for Omar to her her to nice and clean with a hot shower to welcome new paying customers from the others not working and haven't had a chance to sample her succulent charms.
Captive #5:
In a Maryland suburban neighborhood, a young newlywed had suddenly gone missing and the police was looking closely into the background of her husband, especially since he had been charged when in college for assault during a bar fight. Per her suspect husband, who of coursed claimed to be totally in love with his wife Cassie, he tried to relay that the assault charge had been just a fight among guys who had too much to drink from two rival fraternities during his college days. Married only four months to the day, celebrating their marriage with a cruise to the Bahamas, Ted Beringer relayed that he had left for a round of golf at the time Cassie to take a stroll along the walking path in the neighborhood. Ted explained to the police that they had plans to go out for dinner that night, but she was nowhere to be found when he returned home. Asked to explain what his wife was wearing when she left, Ted advised that as it was a little misty out, she had put on her maroon jacket over her blouse or t-shirt, blue jeans and walking shoes. Asked if he knew what Cassie's plans were that day, he could only respond with "Other than her walk around the neighborhood, I'm not sure, shopping at the mall maybe! There's nothing that comes to mind!"
The neighborhood was searched, tracking dogs brought in, but the dogs lost the scent as the point where the walking path looped on back. As it was to be just a short brisk walk and the neighborhood a very safe one, Cassie had left her cell phone in her purse at home. Canvassing the neighbors along the path, as none could remember seeing her that morning, the police continued to concentrate on the normal suspect in such a case - the spouse! More and more, Ted was asked questions that had him flustered, getting upset when they continued asking questions such as: "Did you and Cassie have a fight recently?" "Are thee any life insurance policy on your wife?" "Are you seeing anyone else at this time?" "How about your wife, did you learn that she was seeing someone else?" The police just weren't satisfied and began asking: "What route did you take to get to the golf course?" "Is the the normal route you take to the golf course!" "Who'd you play with?" What time was tee off?" "What time did you get there?" "Do you always play with this same group?" "What time do you normally meet at the course?"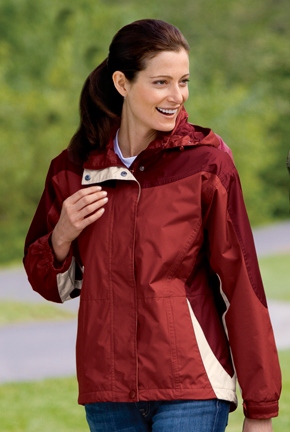 Mrs. Cassie Beringer
With Ted burying his head in his hands, totally in despair and worry about his beautiful wife, he felt like a criminal when a forensic team began inspecting the trunk and inside of both his car and Cassie's. Having left home at 7:30 in the morning, first hitting some balls at the driving range, then teeing off at 8:50 was the foursome he was in. Done with golf at 1 p.m., changing in the locker room, then he and his buddies had lunch and beer at the 19th Hole Restaurant. More beer after lunch, he had gotten back at home just after 3:30. "No, I didn't try to call Cassie on her cell phone!" he responded when asked if he had tried to reach her. "Why not?" he was then asked. "Because I don't normally call her when I'm out golfing!" he answered angrily. It was now 5:30 in the afternoon, ten hours since Ted had last seen his beautiful wife and the damned police thought that he was responsible for her disappearance. "Look, I tell you, I had no part of her disappearance! Dammit, it's not me ......................................someone kidnapped Cassie!" Total frustration then set in as Ted was asked "Have you and Cassie been sleeping apart or do you two share the same bed?"
Asked about their live together, from back when they began dating in college, Ted gave them all he could think of and brought out any pictures of them together prior to being married. Pulling out their wedding album, Ted gave it them to look through. The next request was of their honeymoon trip, to which he pulled out a separate album. Asked about the honeymoon specifics, he gave them the details he could remember, basically that it was a one week cruise to the Bahamas. Pointing out a picture in the album, that's a picture we asked a strange to take of us in front of the cruise ship before we boarded. But instead of the police focusing on the cruise ship, the police began asking: "So you didn't know this person that you asked to take the picture?" "Did Cassie know that person?" On and on it went, then the page was turned to the picture taken of all guests as they boarded, followed by one being greeted by the purser of the ship. Little did Ted nor the police investigator realize that they had been looking at the very same cruise ship that Cassie was once again on board. Nor did they realize that the picture of the purser greeting them was the man responsible for her disappearance.
Ted kept wondering where could his wife be and what had happened or was happening to her right then. Those questions were also in the minds of the many police investigators, with a couple more included: 'Did he kill her?' 'If so, how and where did he hide her body?' 'Did he hire someone to do it and use the round of golf as an alibi for his time where he had at least three witnesses to vouch for him?' The search of the neighborhood turned up nothing at all, no lost shoe, no jacket, no nothing! But had the police investigation included the cruise ship in the picture they had been looking at. They find the pair of walking shoes that Cassie had been wearing, along with the pair of white socks she had on, with the pair of blue jeans she had been wearing. The shoes and clothing were all in a pile far below the top deck of the cruise ship, topped by the maroon jacket and white t-shirt she had on under it. The missing Cassie would also have been found alive and in good condition - for that moment, anyway! Tied and gagged, beautiful Cassie was now hanging like a piece of beef from the ceiling in the corner of a large cabin for the crew. Wrists tied together with a rope loped to the hook on the ceiling, legs spread wide apart with each ankle tied and roped to the large metal eye loop off to the sides.
What was in store for the missing beauty? Cassie of course was terrified, wondering just what horror lay ahead for her, especially after having once again met Omar the purser who had greeted her when stepping aboard the cruise ship for her honeymoon with Ted. Cassie shuddered, feeling so sick at being felt up by the black bastard. Touched for the first time by another man, a filthy black one the like of Omar, Cassie's felt her skin crawl when he touched her bare skin. While gagged and with hands tied in front of her, the vile bastard seem to take delight in cutting and tearing away her jacket away. The same applied to her white t-shirt. With just her bra covering her breasts, the bastard began running his calloused hands up and down her back and arms. Then she was pulled down onto a chair with him, made to straddle him. To her horror, Cassie realized that the bastard had not only unzipped himself but had gone and pulled his erection out of the opening. Pulled up some, straddling legs moved to the inside of his widening ones. As she looked down now, the filthy black cock was jutting straight up between the inner thighs of her blue jeans. Bound hands grasped by the bastard's, they were then guided down to the jutting cock. "Touch it, Mrs. Beringer! Go on and stroke it!" the bastard told her. Shuddering in disgust, unable to bring herself to touch the throbbing black club, Cassie then heard him whisper in her ear "Yer either going to bring me off with yer purty hands or would ya prefer sucking me off!" Quickly she grasped at the jutting stem and began pumping at it. The alternatives given to her made the decision quite easy for Cassie.
In performing the sick bastard's demands of her, her mind instinctive compared it to that of Ted's, getting her to realize that 'It's twice as long as Ted's! And twice as thick too!" She was determined to get the bastard off as quickly as possible, better with her hands getting soiled than having the bastard put that monstrosity in her mouth and maybe doing his 'thing' in it. The bastard's arms had snaked under hers, and the the large black hands were cupping her well filled lacy bra. Eight minutes she pumped away at it, rubbing her palm over the sensitive tip like Ted always liked, Cassie hoped to end this ordeal as quickly as possible. As the bastard began panting heavily and fucking up into her closed fists, Cassie knew that he was nearing an end. The thought of releasing her grip and pulling away when it happened was quickly erased when he whispered "Better not take your hand off of it when I's cum .......................if'n ya know what's good fer ya!" The bastard then grunted once then again while pushing up into her fist. Up in the air it went, two feet high and straight up, with it landing on her jean from her knees on up. Afraid to let go, even as the filthy goo flowed all over her fingers and webbing them together, Cassie continued on till the last drop was out. Still it wasn't over as yet, for a minute later he whispered 'Play with it ......................play with it in your soft cummy hands!" Finally, allowed to let go of the limp and shrunken penis, Cassie cringed with disgust as she looked down at very soiled hand and fingers that were webbed together by the sticky goo.
Breathing a sigh of relief at having gotten the bastard off, she had saved her herself of the worst alternative of having it ejaculate in her mouth. But her sigh of relief turned out to be a bit premature as Omar's hands left her breast and went down to grasp her bound hands and drew them upwards to her face. Shutting her eyes tightly, hands held just mere inches away from her face, Cassie shivered while holding her breath as the bastard nibbled at her earlobe before whispering "Breath, Mrs. Beringer! Get a good smell of my cum!" Not wanting to get a whiff of the smelly slime webbing her fingers together, Cassie refused and held her breath. But with her mouth taped shut, she couldn't breath through her mouth, forcing her to inhale through her nostrils a moment later. It was such an awful and degrading thing she had to do, smelling the bastard's foul semen, causing her entire body to shudder with disgust. Thinking that it couldn't get any worst ...............wrong again for Cassie ....................for the bastard then forced her soiled hands right up against her face, then rubbed her hands about it, transferring much of the sticky goo from her webbed fingers onto her face. With cum also on the tape covering her mouth, the bastard's smell would be inhaled now on each breath.
Walking shoes pulled off, then the socks, followed by her cum saturated jeans. Losing her jeans left her with just her panties and bra, though wearing the wet and soiled jeans would have been just as bad for Cassie. Hanging from the ceiling by her bound wrists, with legs spread and tied to the side wall, made it obvious that her ordeal was not over as of yet. Hanging there, listening to the loud ship engines, Cassie could only shudder in fear while wondering if all the bastard had told was was the truth. 'Am I on the same cruise ship that I was on for my honeymoon with Ted? Is it destined for some part of southern Mexico? That ...........that I'm to be 'employed' at a ...............a whore house? And that ............I'll get ...........my 'training' on the cruise to Mexico?' were some of the questions running through her mind. Then her mind thought 'A whore house ....................that's a place where men go and pay to have sex! And if I'm 'employed' at such a place, that means I'm to provide sex to any horny bastard who's willing to pay for it!' Putting two and two together as she tried to think rationally, getting so-called training to work at a whore house can only mean .........................'No ................no ................it can't be!' was what she told herself. But having already jacked the black bastard off with her hands, degraded by the bastard forcing her cum covered hands onto her face, Cassie knew that it was indeed very possible the truth as to what was in store for her.
An hour later, the cabin door opened and in walked the bastard had wanked off by hand and he was followed by man after man till the entire room was lined by the crew. Men, foreign men for many different countries lined the cabin, lots and lots of them there apparently to watch and maybe even participate in her 'training' session. That latter part made the most sense, especially if her next employment was in a whore house, for such an occupation meant satisfying many men for hours on end. Then the bastard had his hands grasping the front of her bra and used his brute strength to tear it apart, leaving the cups to just dangle, thus exposing her white mounds exposed to the applauding men. Her thin panties were of no match for the strength of his brute and they were easily shredded and tossed aside. Men in the audience were all in awe, whispering and commenting, pointing out that she was indeed a true redhead. Then the man named Omar was telling her "Y'know how people always wants to go out and eat Chinese? Well, my prettee one, this Chinese want to eat you! And he shelled out a good sum of money to eat you out ......................before it gits too much spicy sauce on it! Ming Wang, my friend, come and get some prime American cuisine!"
"Ming Wang ......................Ming Wang ..........................eat some poon tang!" came the chant from the crew as as short fat and round bastard stepped forward with a wide grin on his face. Cassie cringed and shuddered in disgust as the Chink ran his hands up her thighs as if he was inspecting a side of beef before turning to his fellow crewmen to comment "You guys like to eat Chinese ............but Ming Wang much prefers an American such as this! Ming Wang just loves succulent white meat such as this .......................so soft .................so tender ................so edible!" 'Nnnnnnnnnnnnnnnnnnnnnnnnnnnnnnnnnnn ....................................................nnnnnnnnnnnnnnnnnnnnnnnnnnnnn ..........................................................nnnnnnnnnnnnnnnnnnnnnnnnnnnnnnnn!" came Cassie's response through tightly clenched teeth as the Chink tilted his head up and clamped his wide open mouth over her sex and first began lapping at her slit before inserting the tip of his fat tongue between her sleeves. "Eat her .......................eat her .........................eat her!" the chant continued and echoed about in the cabin as Ming Wang began slurping at the now very juicy meal that he was dining on. "Nnnnnnnnnnnnnn ........................nnnnnnnnnnnnnn .........................nnnnnnnnnnnnnn .........................nnnnnnnnnnnnnn .........................nnnnnnnnnnnnnn .........................nnnnnnnnnnnnnn .........................nnnnnnnnnnnnnn .........................nnnnnnnnnnnnnn!" Cassie shuddered as her toes curled while she clutched desperately at the ropes binding her wrists. And then it happened, evidenced by the spasms that rocked her entire body and her scream "Godddddddddd ................................oh, Goddddddddddddddddddddd .............................................ahhhhhhhhhhhhhhhhhhhhhhhhhhhhhhhhhhhhhhhhhhhhhhh!" Between her legs, Ming Wang lapped up all the sweet honey that kept coating his tongue.
It was Efrat the Ethiopian who had bid the highest in the group to win the honor of giving the American beauty her first foreign cock, the big 12 incher that had 'ruined' many an Ethiopian girl in the past when he was rampaging the countryside in looking for pussy. Now that he had gotten himself a job on the cruise ship, he could afford to get himself some clean and classy pussy. With no need to send any money home like many of the crew, he could afford to bid an amount far higher than the others in order to win the prize. In this case, a fellow Ethiopian named Jamal, who didn't have much to make a winning bid to go first had given him money to assure that Efrat had the necessary funds to win the auction. In exchange for money he had handed on over, Jamal would have the honor of holding down the beautiful woman with flaming red hair and ivory white skin, also he could obtain his pleasure while assisting in having her jerk him off with he pretty manicured fingers. "No .....................no ..........no ..........no ...................please ............please ......................no pleaseeeeeeeeeeeeee!" the American beauty cried out as Jamal came to pin her arms and to keep her from fighting and scratching his Ethiopian buddy. It was quite a turn on for the cheering audience as they watched the terrified beauty fight and struggle to save herself, but she was easily overpowered by the Ethiopians, and the crew began chanting "Rape the American bitch! Rape her with that big black cock, Efrat! Knock her up with your black baby!"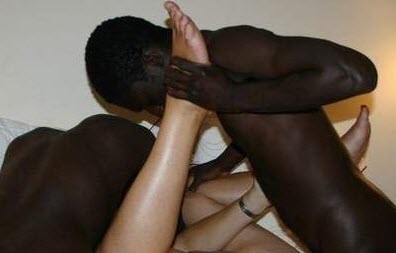 Knowing that rape was inevitable at this point, Cassie only thought was "Did he intentionally pick the blackest bastards of the entire group to put on his hideous show for the crew's enjoyment ...................so they could watch these black black bastards rape me?" Left hand pinned above her head, Cassie felt the bastard who's job was to hold her down guiding her right hand down to his giant dick and her fingers were being molded around the bastard's thick sticky tool. Meanwhile, the one named Efrat had her by the ankles and pushing her legs high and wide, then she felt his bloated cockhead bumping up against her in search for her opening. And when it nudge up against her womanhood, Cassie froze and pleaded once again "Please ..........................oh, please ..........................please don't rape me!" Seconds later, she let out a piercing scream "Aieeeeeeeeeeeeeeeeeeeeeeeeeeeeeeeeeeeeeee .....................................stopppppppppp ...........................................ohhhhhhhhhhhhhhhh, stoppppppppppppppppppppppppppppppppppppppp ......................................oh, God .......................................oh, Goddddddddddddddddddddddddddd!" Fifteen minutes later, long after abandoning the fight as Efrat continued raping her with his enormous black cock, Cassie just prayed that this bastard would not impregnate her with his baby. Knowing that many others were to follow, tears flowed from her eyes as she prayed for death to come instead. Her life was over as far as she was concerned, raped and 'ruined', soiled beyond being salvageable and she just wouldn't blame her husband for cringing in revulsion each time he touch ................wouldn't expect him to at this point ....................................if that did occur in the future ......................for if what was said earlier was in fact true, she'd be disappearing into some hell hole of a Mexican whore house! Against her will, her toes curled and her body spasmed suddenly in response to the hot eruption taking place deep in her depths as her fertile womb was flooded by the hot searing liquid.
Totally defeated and resigned to the awful fate that awaited her in Mexico, Cassie could bend over on all fours as men were mauling at her, holding her firmly in position as it was announced that a named Spaniard named Miguel had the winning bid for the next event. "Owwwwwwwwwwww ........................ohhh ..........................owwwwwwwwwwwwwwwwwwwwww!" Cassie cried out as Miguel grasped her hips and went at her eagerly, thrusting his cock up into her virgin ass. "Oh, God ................................kill me please .............................kill me ..............................oh, Goddddddddddddd ..............................it hurts ............................it hurtssssssssssssssssssssssssssssssssss!" she wailed but that only got Miguel more excited and began humping her rump faster and faster. Then she heard Omar calling out for "Antwon, time to quiet her down some! Time to collect your winnings and give the American bitch something to chew on! Give her a taste of what a Chilean hot dog tastes like!" Seconds later, Cassie could only groan in defeat as Antwon yanked her head back by a violent yank on her hair, then she shuddered as the bastard introduced her to the taste of male cock.
Captive #6:
Finally, the sixth crate got delivered to the dock and the crew quickly got the lift to swing it over to the ship's cargo hold, then was delivered to the level of the crew's quarters where Omar was anxiously waiting. Having been in contact with the three teams of men from the crew sent out and stalking the chosen beauties, it was necessary for come back with one of them to complete the 'staffing' of Juan Sanchez's newest luxury whore house. Omar needed to come true and deliver the goods. Coming up short was not good and really not an option for Omar, not if he hope to get another such lucrative order from the Mexican kingpin. In constant contact by cell phone with all the 3-men groups that had been sent out, success was needed from one of the remaining groups very soon in order to fulfill the order of what was needed from the Grand Opening of the luxurious La Puta Casta of Calista (The Whore House of Calista), with six American beauties there to service and please the very horny clientele from the drug cartel or silver mines. One group advised of having followed the beauty, who was riding in her husbands car and being dropped off at the airport to catch a flight out, thus they would be coming back empty handed. The second group had advised of following their prey and her husband in hopes to make a grab but they were still in the church, with the large outdoor sign of the church indicating a pot-luck lunch was to immediately follow services, thus they too were headed back empty handed.
In contact with the last remaining group, Omar learned that the crew were currently observing the blond beauty as she strolled along the pathway in the park with her husband. Omar was hesitant in making the grab at that point, wanting it to be when no one else was around to explain what had occurred. Thus far, each abduction had been successful with out there being any witnesses whatsoever, just that the woman had seemed to vanish into thin air. Sure there would be many beauties on board for the cruise, but all were registered and paying guest, causing any disappearance to be of great concern and a ship wide search would commence. Such a search would certainly be devastating for Omar, especially with the five women currently held captive below deck. Thus, he had given to go ahead to the crew to make the grab in the park by using tasers, that they were to tie and gag the husband and put him in some thick brush where he would not likely be found for hours. Omar breathed a sigh of relief to see that the final crate got delivered in time for it to be loaded into the cargo hold, knowing that the Captain was a stickler for leaving right on the nose and according to schedule. It was not three minutes after the crate was lifted on board the the ship's whistle blew and all the hatches were being sealed shut so the ship could get underway.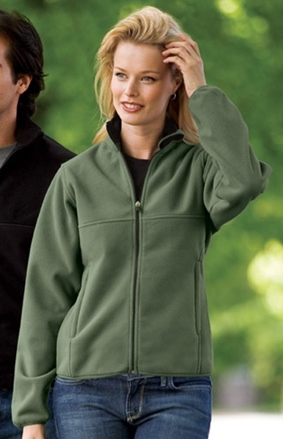 Mrs. Dawn Gerber

Peering into the open that had just been opened by the men who had abducted her, Omar smiled as he gazed down upon the unconscious blond beauty who had the stun gun used on her first and then chloroformed to assure she'd be out while transported to the ship. Hands tied behind of her, ankles secured, he observed the heavy green wool jacket tucked under her head and commented "You men did good! Smart of you to take off that heavy green jacket, it'd have been way to hot for her once the crate was closed on up!" He certainly had remembered eying up this sweet little beauty, the one aspect that he had highlighted in the notes on the lovely blond, was that of her having nice big titties. Then he at his trusted friend, the one in charge of the three man crew, advising "Musak, looking how her black shirt is all wrinkled up, I see that you guys copped a feel of her big titties, huh?" His trusted friend gave Omar a shy smile, telling him "When we took off her jacket, none of us could believe the jugs she had hidden under it! We all had to grab a quick feel to see if they were real! And they sure are, Omar!" Having Musak and his men finish taking down one side of the crate, Omar bent down to retrieve the sleep beauty, lifting her up in his arms and taking her to the room where she would be trained for her entry into the oldest profession in the world.
Getting her into the cabin and closing the door, Omar set the 5'4" 11 lb. beauty down upon a mattress on the floor. Undoing the bindings tying her hands behind of her back, he then drew each arm up to the nearest corner to re-secure her arms with them being spread wide. Straddling her waist, Omar then pushed up the heavy black top that she was wearing to expose the large mounds covered by a lacy black bra. Giving a whistle as he molded his large hands over the beauty's mounds, Omar commented "Damn, gotta be some 36C's here! For a tiny gal, ya's really got some big whoppers!" Pulling the lacy cups down to bare her pink capped titties, he bent down to suck on each nip, tonguing each till they budded on up. Scooting up on his knees, unzipping the front of his pants and pulling his throbbing dick on out into the open, Omar then lay the bottom of his cockhead right upon the duct tape covering her mouth. Then, reaching into his pants pocket and pulling out the vial of smelling salts, he opened it up. Grabbing the top of her hair to pull head up some, he then waved the smelling salts under her pert little nose.
Tossing her head about to get away from the sharp acrid smell, Dawn shuddered with fright upon seeing the widely grinning black bastard whose lusting eyes spoke volumes. The acrid smell of the smelling salts taken away, Dawn now encountered yet another quite acrid smell below her nose, and then the source of the smell showed itself and rose menacing for her eyes to see it close up. It was like that of big long snake rearing its ugly head, seemingly ready to strike as it's mouth kept flaring open and shutting once again, and from the wide grin on the bastard's face in the background .................................it was the bastard's smelly black cock rubbing her nose and waving in front of her horrified eyes! Trying to move right, Dawn found it stretched out wide and tied at the wrist, then discovered the same for her left. Trying to scream made it evident that her mouth was taped shut, bringing the realization of the awful situation that she was in ................................that of having been kidnapped by the bastard who had his filthy cock in her face! Her mind then raced, with the last recollection coming to mind was that of walking in the park with her husband, then she wondered 'Ben? Where's Ben? What happened to Ben? We were walking in the park together ...........................that's all I remember! Is he hurt? Is he alive?' Then she was concerned of her own safety 'Where am I? Where have I been taken to? What's he planning to do to me? Rape me? Kill me?'
Cringing, shutting her eyes tightly and turning away, Dawn cringed with disgust as the bastard moved his filthy cock about on her face. She'd have rather it be a real live snake instead, rather dying from it striking her than having to endure being tortured and degraded by this bastard's filthy and smelly penis. Tried as best as she could, but with the tape covering her mouth and unable to breathe through it, Dawn was forced to inhale just as the bastard shuffled up even further to rub his swollen testicles up against her nostrils. Tempted to keep slapping his throbbing hardon up against her beautiful face as he was now doing, his nuts tightening at the thought of popping his sticky load all over it, Omar didn't want to take anything away from the fellow who had paid a hefty sum for the right to get blown by her first. Even if the crewman was to get blown by her first, Omar knew first appearances told it all and he didn't want future bidders to hold back in seeing the bitch had already gotten a facial, cause perhaps the guy getting the first blowjob might just want to give her a taste of his cum before pulling out and creaming her beautiful face. Even though not planning on giving her a facial, the bitch certainly did not know this, so Omar rubbed the sticky underside about her cringing face while taunting "Want a nice creamy facial, sweetie? It'll be really good fer yer complexion!" With her shaking her head with a 'No', Omar laughed at her plight and teased "Okay, but I's can guarantee ya a lot of the guys in the crew ain't gonna take 'no' for an answer!"
Dawn was somewhat grateful when the bastard pulled his filthy cock out of her face, felt it sliding back down over her chin, but then the bastard was pushing her titties together in order to give himself a tunnel to fuck in and out of. Then, upon hearing the loud engines beneath her, she shuddered in horror in recalling him mentioning guys in the crew. She was aboard a ship, a very big one from the sound of the engines below, maybe one as big as the cruise ship that she and her husband had recently been on. With the bastard's cock sliding through her molded tits and still bumping up against her neck, Dawn then realized just how lengthy a dong he had, thinking 'It belongs more on a horse or donkey .................not on a man!' Turning her head away, trying to stretch her neck as much as possible, Dawn tried desperately from having the bloated cockhead nudging at her throat on every upstroke through her tits. Hearing the bastard beginning to pant above her, Dawn then realized that the bastard was going to get himself off in this rather odd fashion. But it was certainly better than him raping her with his donkey-sized cock or shooting filthy scum into her face. Then it happened, cock pushed to the hilt between her molded tits as the bastard gave a loud grunt, spraying his sticky goo all about her neck. Head turned off to the side with her eyes shut, Dawn then felt him letting go of her titties, but then globs of thick goo were being sprayed upon them. A moment later, the bastard was exiting the cabin, but not before pulling up her lacy bra over her cum splattered titties and pulling down her black top to glue the fabric to her stick neck.
For over an hour, Dawn struggled on the mattress but was unable to loosen the bindings to each wrist, desperate to somehow get loose and escape before her tormentor returned. It was so despicable what he had done to her, but Dawn feared that the worst was yet to come if she didn't break free. She already felt so soiled and dirty, tittie fucked by the black bastard and his sticky cum now nearly dried, but the stench of his filth made it even worst. Then she froze upon hearing the metal door being opened as her grinning tormentor had come back before she could get her bindings loose and make a getaway. "Oh, my, ya've been naughty while I's been away! Yer wrists are red from ya trying to get the ropes off, I see! But don't ya worry none, cause me and the boys will git ya untied!" she was told as the bastard entered the cabin followed by man after man till the entire room was lined with them. Dawn then heard the bastard, who had masturbated on her, shout out several foreign African sounding names and then four men came to stand next to the mattress with two on each side of her. Hands untied but the men on each side had grasped her wrists to keep her in place. As she tried to reach out and grab something, Dawn did manage to do so with both hands, but just seconds later realized just what a mistake that was. Those hard cushioned steel bars in her hands were not what she had thought she had grabbed onto, especially when each began to throb and expand in each hand.
Then those men holding her hands were pulling at her black top, pulling it over her head, and Dawn flushed with embarrassment when one of them commented "What the hell? Omar, is all that white stuff yours?" Omar just laughed out loud, "Yesss, I must admit I's went and got myself a nice tittie fuck! Never seen such nice big knockers on such a little beauty! Go ahead, take her bra off and let's check the size of them titties!" Watching as the bitch was turned to one side so her bra could be unclipped in the back, Omar fought to keep himself in check for the surprise he had for the guys taking off her bra and the crew in the audience. Back of the bra unclipped, the fellow who had gotten it undone, looked at the tag and yelled out "36C's!" that brought about a lot of 'ooohs and aaahs' from the onlookers. Then, the two men uncovering her titties both in unison loudly exclaimed "Oh, S--H--I--T!! as they had to peel away the lacy black bra that had been glued to her tits. All the crewmen in the cabin roared out in laughter as they realized that Omar had also cum all over the bitch's bit titties and had immediately put her bra back on so she could feel his cum soiling her beautiful body. Omar then took the two pails he had brought in with him, one filled with soapy water and the with clean water. Kneeling down, using the sponge in the bucket, he then went about washing down the bitch and threw the clean water upon her after scrubbing the cum off.
Tape ripped from her mouth, Dawn sobbed out "Pleaseeeeeeeeeeeeeee ..........................................please don't hurt me .....................................please let me go .......................................pleaseeeeeeeeeeeeeeeeeeeeeeeeeeeeeee!" But to her dismay, the men who had untied her legs and holding them after having peeled of her walking shoes and socks were now working at the button of her jeans. The anxious men, cheered on by their crewmates, then grasped the top of her jeans as well as the waistband of her panties. "Nooooooo .................................noooooooooooooooooo .................................noooooo ............................don'ttttttttttttttttttttttttttttttt!" Dawn pleaded while struggling against the men holding her, her fists squeezing hard at the throbbing flesh in her hands. Jeans and panties pulled down her legs and off her feet, there was noticeably a scramble going on where her clothing had been tossed, then she watched in horror as one of the men in the audience was holding up her lacy black panties before tilting his head up to drape her panties over his face. Heart thumping in her chest with fear, Dawn was scared out of her wits when the men holding her arms and legs lifted her up simultaneously. Her hands still gripping onto the stiff hard cocks, she then felt the bastards holding her by her legs and ankles pushing their throbbing hardon up against her, rubbing their filthy cocks up against her toes in hopes of getting themselves a footjob at her expense. Dawn was next aware of men moving the mattress away, leaving the men holding her several feet above the metal cabin floor.
The men in the cabin now anxiously awaited for Omar to announce the highest bidder for the bitch, knowing full well that she was going to really be in for 'special', especially in four of their crewmates were holding onto her. A loud roar went up when Omar announced "It's our man "Santu' once again!" With one of the men behind of the bitch's head lifting her head up to see the man who had bid highest to possess her. Santu from Sudan, the highest bidder for Captive #3, once again gave up over a month's salary to have that honor once again in having the honor of introducing a beautiful American bitch to some prized African beef. Standing a 7'+ and weighing in at 320+ lbs, his cock would put many a stud mare's to shame, he loved seeing the horrified eyes and gaping mouth of the frightened beauty as she trembled and loudly pleaded "Pleaseeeeeeeeeeee ..............................noooo, pleaseeeeeeeeeeeee ..................................don't let him .....................................don't let him ..................................he'll kill me with that .....................'thing'!" Stepping forward between the sexy legs that were being pulled wide apart, Santu held his erect boner in the middle for he certainly did not want it to get bent out of shape by aiming it wrong, then using his free hand to signal the men holding the bitch to lift her up some.
With a nod of the head as the signal, the men holding on to the American blond bitch ran forward a few steps, using her like they would a battering ram, and Santu's aim was true as the bitch emitted a loud piercing scream "Eiiiiiiiiiiiiiiiiiiiiiiiiiiiiiiiiiiiiiiiiiiiiiiiiiiiiiiiiiiiiiiiiiiiiiiiiiiiiiiiiiiiiiiiiiiiiiiiiiiiiiii .....................................eiiiiiiiiiiiiiiiiiiiiii ...................................eiiiiiiiiiiiiiiiiiiiiiiiiiiiiiiiiiiiiiiiiiiiiiiiiiiiiiiiiiiiiiiiiiiiiiiiiiiiiiiiiiiiiiiiiiiiiiiiiiiiiiiiii!" Very few men could measure up to what Santu possessed, much less even come close to his 13 incher that was like a big rolling pin in diameter, they too shuddered a bit in pity upon hearing the bitch's shrilling scream as she was rammed right up onto the spearing spike. A good four inches had disappeared up into the screaming beauty, but still she had not reached the top of Santu's fist that was grasping his horse-like cock in the middle. The men holding her pulled her back some, then against thrust her forward like a battering ram once again, this time impaling her up to the top of Santu's fist. "Owwwwwwwwwwwwwww ..............................owwwwwwwwwwww ..................................stop ...........................stoppppppppppppp ...............................it hurts .......................................it hurtsssssssssssssssssssssssssss!" came the music they all wanted to hear. Now Santu let go of his boner and reached forward with both hands to grasp the blond beauty by her trim hips. "Aieeeeeeeeeeeeeeeeeeeeeeeeeeeeeeeeeeee ....................................................aieeeeeeeeeeeeeeeeeeeeeeeeee ..................................aieeeeeeeeeeeeeeeeeeeeeeeeeeeeeeee!" she shrieked out over and over each time Santu thrust up into her till his 13" cock was totally buried up into her raped cunny. Buried up to the hilt in the American bitch, Santu proudly looked about the room and bragged that "That American husband of hers is sure not going to want this bitch back ................not the way Santu has gone and 'ruined' her good!"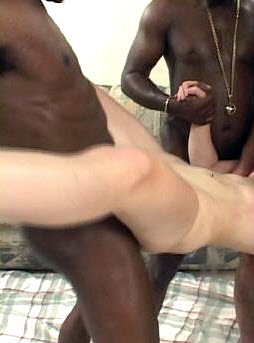 Raped and violated literally beyond imagination, all the men in the room knew that from now on no ordinary cock would satisfy this American bitch, not in the way Santu was stretching her with his horsey-cock! Now his crewmates watched in total awe as he withdrew his thick dong good 10"+ only to ram it right back up into the raped beauty. "N-o-o-o-o-o-o-o-o-o-o ....................................n-o-o-o-o-o-o-o-o-o .................................................n-o-o-o-o-o-o-o-o-o-o-o-o-o!" came the pleas from the ruined beauty as Santu totally destroyed her womanhood, stretching it his black pole that must be at least 3" in diameter. Cocks throbbing in her fists, cocks pushing up against her pink soles and pretty toes, all taking place as Santu kept fucking his charcoal black cock up into her ruined pussy. On and on it went, fucking her hard and basically ramming it up in her hard each time, many of the watching crowd had unzipped and stroking themselves in hopes of soon getting their chance for a go at the American beauty. Nearing the fifteen minute mark, with only soft moans now being emitted by the raped beauty, Santu kept on hammering away as if he wanted the American bitch to die on the stick. Finally Santu grunted out "Uggggggh ............................augggggghhhhhhhhhhhh ..................................ughhhhhhhhhhhhhhhhhhhhhh!" With his cock buried to the hilt, his glistening ebony ass cheeks quivering, it was obvious that he was now planting his Sudanese seed deep in her fertile womb. A moment later, once Santu pulled his spear out of the raped beauty, all the men's mouths dropped open as they stared in awe at the gaping hole that had earlier been the bitch's tight little pink slit, and cum was oozing right on out of it to splatter on the floor below. Mattress pushed back to where it had been, the raped beauty was being lowered onto it once again as cum was now spurting up both arms and webbing the toes of both feet.
Flipped over onto her belly, pushed up onto all fours, two men held her firmly or she would merely have collapsed on forward, then Omar was announcing that "Musharraf, our man from Egypt is our highest bidder for the bitch's creamy white ass! Also, announcing the winner of getting some header first from this blond bitch is our man Felipe from Brazil! Felipe, might be best to wait a bit .........................don't be too hasty .....................wait till Musharraf git it up her shitter first .............................cause she might just bite jist bite your dick off!" All the crew in the cabin roared with laughter at that last comment. "Noooo ...............................aieeeeeeeeeeeeeeeeeeeeeeeeeeeeeeeeeeeeeeeeeeeeeeeeeeeeeeeeeeeeeeeeeeeeeeeeeee!" came the expected shriek of pain when Musharraf shoved his boner up her cherry white ass. Finally, when she quieted on down, Felipe yanked her head on back to feed her his Brazilian meat. Both Musharraf and Felipe looked at one another, each betting the other one hundred American dollars as to who would last the longest, that they'd take turns on the strokes with each stroke needing to be fully embedded in her mouth or ass. "Oh ................oh ..............oh ...............oh ................oh!" each man grunted out upon shoving his cock up into her mouth or ass, one slicing in while the other was pulling on out. On and on the competition went, and men in the cabin began laying bets, some cheering for Musharraf to last the longest while others cheered for Felipe. Finally, after ten minutes had lapse, Felipe lost the bet as he hadn't counted on the American bitch to begin flick her tongue over his cockhead while on the outstroke as he had to keep it right there until his competitor started pulling on back. "Ahhhh, fucccckkkkkkkkkkkkk ...................................fuckkkkkkk .............................ahhhhhh ..................ahhhhhhhh ..........................ahhhhhhhhhhhhhhhhhhhhhhhhhhhhhh!" Felipe groaned, his fingers keeping a tight grip on her silky blond hair as he popped his sticky load into her mouth.
When Musharraf completed his pleasurable task of sodomizing the American beauty, cumming deep up in her ass, he pulled on out and let the bitch collapse face forward onto mattress. Cum was now leaking out of her ass, cunt, and mouth. Then, with Omar reading out six names, the gang bang would now commence. The first gang bang was as Asian one, the five guys coming from: China, Japan, Thailand, Korea, Malaysia, and the Philippines. The second was as South American flavor, guys from: Argentina; Guatemala; Peru; Uruguay; Venezuela and Guyana. The third group was Middle Eastern flavor, comprising of men from: Syria; Lebanon; Iraq; Turkey; and Pakistan. After this first day, the beautiful Mrs. Dawn Gerber will have pleased cocks from around the world. By the time the cruise ship docked in the Port of Calista, her nipples would be bruised and tender from all the sucking they received, with a half dozen getting themselves a tittie fuck and laughing as they sprayed her neck and face in the process. She would be very well trained as Omar entered her cabin for a test run, though the smile she was to have on her face did show her trembling some as he neared her. But she did exactly as instructed, with Omar telling her "On your knees so you can unzip me, Mrs. Gerber!" "Good, now reach in and pull my cock out!" "Now beat your face with it!" "Very good, now take it in your mouth and suck on it!" "Reach in with your free hand and play with my balls!" "Good, very good! Now look up at me at all times because it pleases a man to look into your pretty blue eyes when he cums in your pretty sucking mouth!" "Ahhh ..............ahhhh ......................that's it ..................keep looking at me while I'm shooting my cum in your! Ahhhhhhh, lick it ............lick it .................every last drop!"
The 'Unfortunate' Ones to miss out on the cruise were:
Missing the 'free' cruise to Mexico were two lovely looking blondes who were about to be 'invited' onboard, but as things turned out they were preoccupied had ended up having to pass on this trip. But Omar filed their information back into place, for perhaps they might just make get that 'free' cruise down to Mexico. These two would be given top priority when the time came once again for Omar to furnish another of Juan Sanchez's luxurious whore houses, where men from the drug cartel and those working in the silver mines were willing to pay top dollar for entertainment in a beautiful surrounding and catered to by beautiful American women who had been well-trained to please a man!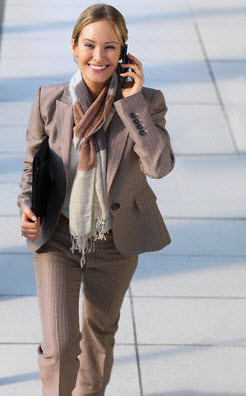 Mrs. Laney McGuire
Omar got the report on 28 year old Mrs. Laney McGuire, the men assigned to kidnap this lovely blond beauty reported back that they had followed her while being driven from home by her husband. They had hoped that hubby would be dropping her off to some location where they could then make the grab with no witness around and quickly disappear. However, it appeared that she was off on some type of business trip as hubby had dropped her office at the airport where she checked in a small suitcase and headed into the terminal to get her flight. As the airport was such a high visibility place, with security there only allowing those with boarding passes to go beyond the screening area, their mission was forced to be scrapped. Details on her job as a sales representative for a costume jewelry firm, that she was often on the road making sales calls to various department stores, that information was stored on the beauty with notations made that the grab would best be done on a weekday when she was returning to her car after making a call at some department store. In the very near future, if Omar got another lucrative contract from Juan Sanchez, the beautiful Mrs. McGuire would be making another trip - an unplanned cruise down to Mexico.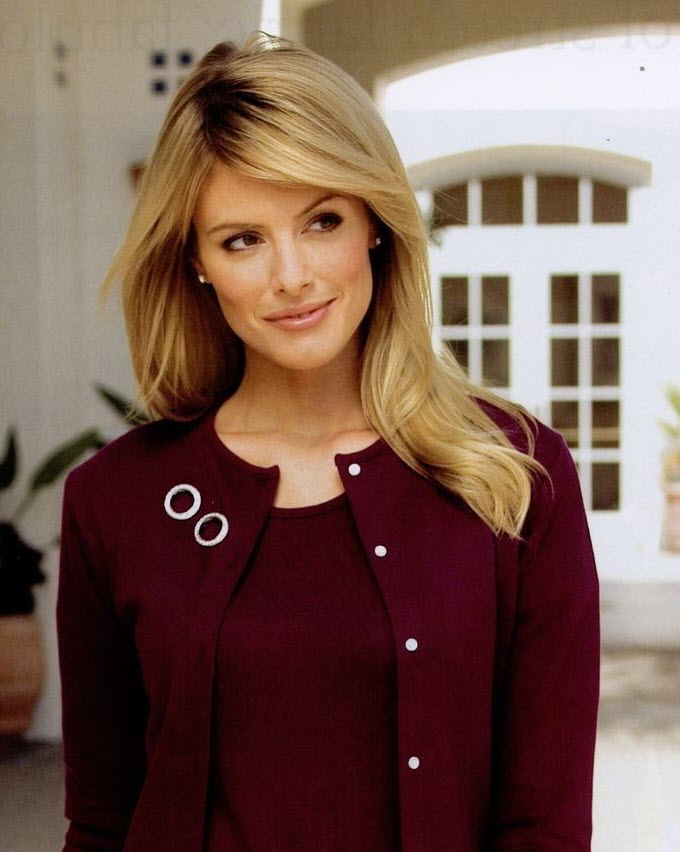 Mrs. Terri Kirkland
For 30 year old Terri Kirkland, a beautiful blond school teacher at Roosevelt Middle School, a baby-sitter had stopped by early that Sunday morning to allow the Kirkland's' to drive to that one mile to attend church services. Omar got the report from a very trusted crewman whom he had assigned to abduct the blond beauty, that trying to make the move on a Sunday morning was out of the question without drawing any unwanted attention. The fellow was quite disappointed in having to call things off but promised Omar that he would bring the succulent blond beauty the next time around, advising "You won't have to pay me for the job and I will be certain to be the highest bidder ..................................to have the honor of being the very first to have his cock between her beautiful pink lips!" "How do you know she doesn't down on her husband?" Omar inquired. The disappointed man firmly replied "She is so beautiful! So innocent looking! I am positive she would never entertain doing such a thing ....................not even with her husband! Ahhh, with the binoculars and seeing her on her knees to get communion, all I can think about is to have her on her knees once again ...................and I will personally give her communion and some white wine to go with it!" Omar laughed at his friend's obsession with the lovely beauty and assured him of seeing to it that he gets to give that very special communion ...............................that of having the beautiful bitch down on her knees, teaching her how to suck cock along with a healthy taste of that special white wine he planned on having her taste!

End of Story.