Young Wife in Trouble - II
(m/f, i/r, cons)
by
Samurai Stud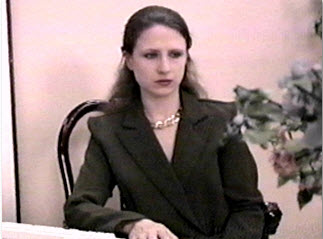 _______________________________________
Standard Disclaimer!
This is a fictional story intended for Adults only!
______________________________________________
************ ***********
Note: The story below is a story in itself. However, it is also a continuation
of the earlier story entitled: Young Wife in Trouble I
*********** ***********
Picking up the ringing phone and hearing his friend's voice greeting him, Ichiro Higuchi responded "Ahhh, my good friend, how have you been?" After listening to his friend for a bit and being asked about his new forays in the U.S., Ichiro laughingly inquired "Wondering if I've made another conquest, are you? Have you ever known me to ever fail?
With his friend pleading for details, Ichiro advised "Well, my latest conquest took place just a few weeks ago! It was actually a beautiful wife of one of the young supervisors working for the company, the lovely Mrs. Lisa Bennett! She happened to be picking him up at the plant one day when I spotted her! I had been introduced to her earlier at a company party so I went up to her car to chat with the pretty thing!"
Mrs. Lisa Bennett, at age 26 with long silky dark brown hair, was the loving and faithful wife of Ken Bennett whom she had met in college. Standing at 5'4" and with a flawless porcelain complexion, Lisa had men's heads turning wherever she went. Having just gotten off her trainee status at an investment banking firm, along with the lowly pay accompanying the title, they had just been able to qualify for the mortgage needed for the house they had been eyeing.
With Hideki begging for more, Ichiro went on "When her husband did come out, I naturally talked of how smart a man she was married to and that he offered much to the company! Mentioning how nice it must be to come home to a home-cooked meal, considering the fact that I'm single, it naturally led to the young wife inviting me over for dinner one evening! A week later I was having dinner at the Bennett's home and let on that the latest quarterly result were in and that the Home Office was now looking into doing some cutbacks due to the changing Japanese economy!"
"I went on to say that although the U.S. division was steady, the initial outlook was that cutbacks may occur throughout the entire company and that no one could be assured of their job being safe! Naturally that caught them totally by surprise and I acted very disappointed that even some supervisors would have to be let go, mentioning how difficult it would be for me do tell anyone the bad news, especially since they were all like the Bennetts' in having new homes and such!" Ichiro advised.
Chuckling, Ichiro told Hideki "When her husband went to the bar to freshen our drinks, I then reached over to take her soft manicured hand in mind and whispered 'It would be such a shame if your husband lost his job …………..and you had to sell this beautiful home, Mrs. Bennett! You be nice to Ichiro and I shall see to it that Mr. Bennett's job is safe …………………and you will not lose this beautiful home!' It was exciting to see her frightened and I could feel her hand trembling in mine!"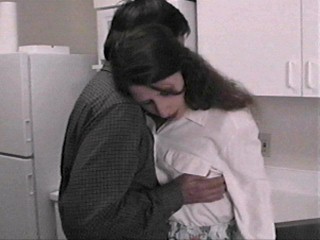 "And when the young husband went to the bathroom while his pretty wife was in the kitchen, I slipped up behind her and let her know just how she would be the one responsible for her husband keeping his job or not!" Ichiro advised. "Ah, my friend …………….it felt so good to feel the soft then flesh trembling under my touch ……………to hear her panting in heat when I slipped my hands in her blouse and felt up her beautiful titties!" he added.
"Knowing that her husband was playing golf the next day, like he did every Saturday, I then let her know that it would be the opportune time to convince me to keep her husband on! With her husband about to come out of the bathroom, I told her that she needed to let me know her decision over dinner!" Ichiro told his friend. Hearing his friend moan in disbelief of his story, Ichiro continued "Well, I got the answer that I wanted over dinner! She was willing to do whatever it took to save her hubby's job, letting me know that by playing footsie with me under the table!"
Unable to get any sleep the night before, Lisa felt so repulsed at the recollection of having allowed her husband's awful boss feel her up in the kitchen. Sitting at the dinner table after the incident in the kitchen, Lisa was faced with the horrid proposition, with the consequences of having Ken lose his job along with their home. Then she was forced to make that awful decision upon feeling Mr. Higuchi's foot brush up against her leg. Staring down at her dinner plate, she then gave the awful man the answer he wanted, caressing his leg with her foot to let him know her decision made.
Hating to see her husband hustle out of the door to meet up with his golf buddies, Lisa wanted to yell out 'Ken ………………..Ken ……………….don't go …………….don't go! Please don't go! Your ……….your deceitful boss ………………he ………..he's planning on coming on by ……………….when you're not here …………………..to bed your wife! I ……………I want you to throw him out on his ass ………………….tell him where to shove his damned job …………………that your wife is worth so much more!'
Once Ken's car had departed out of the driveway, his boss's Mercedes pulled up, making it quite apparent to Lisa that the evil man had been watching and waiting for her husband's departure. Having told Ken that she was going to meet her girlfriend for breakfast that morning, it provided her with the excuse to dress into the same outfit that she had worn the night before, recalling Mr. Higuchi advising "Wear this same outfit tomorrow morning! I will enjoy stripping this off your sexy body, Mrs. Bennett!"
Trembling under the touch of this evil Asian, Lisa felt like fruit on a grocery bin as man's pudgy and clammy hands groped and fondle her breasts. So different from that of Ken's loving tender caresses …………………..Lisa came to realize that there were no such feelings involved here as the devious man squeezed and thumbed at her swollen nipples. She felt so ashamed and humiliated in being touched and inspected like a piece of meat.
"Boy, that was one hot little bitch! She must have gotten herself all worked up knowing I was going to fuck her once her husband went golfing! Damn, once I got her into bed the next morning, it was so fantastic! Nothing like screwing a guy's pretty wife right on the bed he shares with her! I tell you, Hideki, that is the ultimate pleasure attainable ……………knowing that you're about to nail a prim and proper little bitch right on her marital bed!" Ichiro bragged.
With Hideki pleading for all the juicy details, Ichiro went on to relay the events of that morning, how he bedded the dark haired beauty in the master bedroom. Ichiro had his good friend moaning with envy over the phone, reliving those moments himself as he relayed them. His friend moaned in envy as Ichiro proceeded to give him the details on stripping the young wife and spreading her sexy white legs wide apart on the king-sized bed.
For Lisa, it was so humiliating to be lying on the bed that she shared with her loving husband, naked except for her heels and legs wide splayed. Having resigned to the fact that she was about to sacrifice her body to save her husband's job along with the new house they had purchased, Lisa however was totally unprepared as the evil Mr. Higuchi clamped his hot wet mouth directly on her sex. "Ohhhhh ……………..no ………….no ……………not that …………..its filthy ………………..ohhhhhhhhhhhh ……….oooo ………………ugghhhhhhhhhhhhhh!" she shuddered.
Disgusted and humiliated at the vile sexual act being performed on her, Lisa gritted her teeth as she fought desperately in trying to show no emotion or reaction. But with the withering tongue lapping at her sensitive slit, then expertly finding her clit, Lisa grasped the back of the man's head as she arched her hips up into his slurping mouth. "Ohhhhh ……………….ohhhhhhhhhhhhhh …………………….cumming ………………….I'm cumminggggggggggggggggggggg!" Lisa shrieked loudly as she climaxed in his mouth.
Climaxing as never before, skyrocketing into outer space, Lisa finally began to come back down to earth as the devious Asian scampered up between her wide-splayed legs. Then, upon feeling the bloated cockhead push up at her to gain entrance, Lisa eyes widened in horror up realizing that this man was so much bigger than her husband ………………bigger where it counted most!
"Ohhhh ……………so tight! So fuck'n tight! Yes ……………….spread those sexy legs, Mrs. Bennett ………………..spread your sexy legs for Ichiro!" Ichiro advised as he tried to penetrate the lovely beauty. Then, grasping her trim hips tightly, Ichiro thrust forward to spear into the squirming young wife. "Ahhhhhh ……………got ya!" he chuckled as he pushed this thick cock in further. First withdrawing a bit, he then began to fuck the sexy beauty in earnest.
It was a fuck to behold as the Bennett's bed shook and rocked as never before. For Ichiro, this was the ultimate conquest as he hammered away at the once prim and proper young wife as her trim arms clutched at him while wrapping her sexy legs around him and locking her heels together. The only thing that could have made it better was having that young kiss-ass husband of hers right there watching his pretty wife get boned.
Totally in love with her handsome husband, yet now Lisa Bennett had another man's cock in her squeezing cunt. This horrid Asian man, her husband's devious boss, had make it quite clear that she held the faith of her loving husband's career, along with the ability to afford the new home they had recently purchased. She had given in to the evil demands and now was shamelessly responding to the fantastic fuck that he was throwing to her. "Yes ……………….yes ………………….oh, God ………………so good …………..so gooddddddddddddd! Oh, God ………………….yesssssssssssssss ………………..yes ………………..I'm cummingggggggggggggggggg!" she shuddered squeezing tightly as the cock within her exploded.
"Ugggggg …………………..uggghhhhhhh …………………….ugggghhhhhhhhhhh! Oh, sweetie ……………………..ahhhh, Mrs. Bennett ……………………….ohhhhh ………………………ahhhhhhhhhhhhhhh!" Ichiro moaned out in pleasure as he pelted her fertile womb over and over again with his hot potent seed. Then he heard her gasp in horror "Oh, my God ………………….you didn't wear anything!" Ichiro laughed out loud "Too late, Mrs. Bennett!"
"Damn, Hideki ……………..that little bitch was so naïve! Can you believe she never sucked cock before? Well, Ichiro gave her a good lesson in cocksucking!" he told his friend. With Hideki prodding for more info, Ichiro laughed "Had the pretty little wife go down on me! Had to promise her I'd pull out of her mouth before cumming! But you know that's one promise I never kept! The bitch really believed me! Ahhhh, it was so good ……………seeing her choke and gag on my creamy load!"
"Did I whore her out after to one of my clients as a signing bonus? No ………………not initially with this sexy babe ………………………did one even better with this pretty little honey!" Ichiro added. "We couldn't get anywhere with one important client's contract was up for bid! All the undercover scope turned up nothing on the guy! But the PI came back with some important info in following the guy! The PI noticed that when the guy's chauffeur waited for his boss, the big black dude couldn't keep his eyes off the cute white chicks!" he advised.
With Hideki pleading for all the juicy details, Ichiro continued on "Yeah, had one of my guys approach the guy and show him some pics of the lovely Mrs. Bennett holding hands with that wimp-ass husband of hers! All we had to do was ask if he was interested in boning the sexy white bitch and the dude immediately started thinking with that head between his legs!" "Got the chauffeur plant a bug in the guy's briefcase and pass on any info he learned about our competitor! The deal was a cinch at that point!" he added.
With her husband sent out of town on a supposedly necessary business trip, Lisa knew that the real reason Mr. Higuchi had sent Ken packing was to get her all alone again. Sure enough, she had gotten a call a work from her husband's devious boss earlier during the week, telling her of the real reason Ken was being sent out of town. Shuddering at the thought of being unfaithful to Ken again, memories came back to that first time, recalling how the awful man had eaten her out and made her return the favor.
Kissing her husband goodbye when he departed for the airport, Lisa did not have much time to wait before Ken's hideous boss appeared at the front door and asked with a smirk "Did you kiss your husband goodbye, Mrs. Bennett?" Following the nod of 'yes' in response, he asked "Did you tell Ken that he got sent off so his boss could fuck you silly again?" Staring quietly into the eyes of embarrassed young wife till she shook her head 'no', Ichiro advised "I'm so glad you didn't tell him I was coming to fuck you! Because it wouldn't be good to tell him a lie!"
Seeing her puzzled look, Ichiro smiled as he advised "Don't want to tell Ken that his pretty wife is going to spread her legs for Ichiro when she's not, do we? But don't you worry, Mrs. Bennett ……………………I know you are just dying to have another man's cock stuffed up that horny little pussy of yours! And so you shall have a nice big cock fucking up into your horny hole today ………………..a nice big BLACK COCK!"
Having earlier resigned herself to letting another man use her body once again, Lisa had steeled herself in preparation for the Asian bastard's clammy touch upon her body. But now all that preparation had upped and deserted her completely as Lisa shuddered in revulsion at the thought of a black man touching her. 'Oh, God! Ken's awful boss is pimping me off to another man ………………..using me to pay off his debts!' she realized in horror.
Hearing the doorbell ring and instructed by Mr. Higuchi to answer it, Lisa nervously went to the front door. Upon opening it, Lisa's heart nearly stopped as her eyes took in the huge muscular black man standing before her. Upper arms just rippling with well-defined muscles, Lisa felt to tiny and vulnerable next to this Neanderthal stud who looked as if he was ready to throw her over his shoulder and take her to his cave.
"Mrs. Bennett …………………meet Toby James! When I showed my man Toby here a picture of you, he was only too happy to get me the information I needed ……………..in exchange for the privilege of getting in that tight little panties of yours! Why don't you show Toby just what a perfect little hostess you are …………………..how Ken Bennett's prim and proper wife is so good at entertaining men ………….with her legs spread wide on a bed!"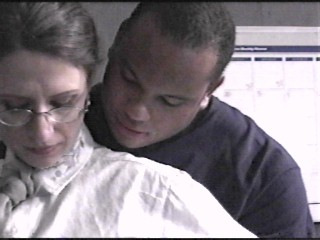 Looking up at this huge well-muscled stud, Lisa's body quivered as her love juices flooded her pussy, creaming right in her panties. Panting for breath as one of the man's large hands took her petite one in his and pulled her down the hallway in search of the master bedroom. Seeing the size of this man, feeling the strength packed in his solid muscle frame as she was pulled into her bedroom, Lisa shivered as Toby guided her hand onto the bulge of his crotch.
Heart now pounding madly in her chest, Lisa felt goosebumps cover her body as her the zipper to her dress was pulled down. Dress pushed over her shoulders to puddle on the floor around her heels, Lisa could not resist the temptation of pulling down the zipper of Toby's pants, wanting desperately to feel the size of his obviously thick and throbbing manhood in the palm of her hand. Hand insert into the open, Lisa gasped in astonishment as her trim manicured fingers grasped the hidden monstrosity.
Tossed roughly onto the king-sized bed that she shared with her husband and stripped naked of the rest of her clothing, Lisa could only pant for breath as she watched Toby begin to disrobe and reveal the magnificent specimen of male physique she had ever seen. And to top everything off came upon the unveiling of the longest and thickest male cock ever, making her husband's seem like an inconsequential popsicle stick. Swallowing in nervousness, Lisa gulped 'My, God ………………….its not humanly possible! It …………………….it'll never fit in me! He'll kill me with that!'
Here she lay, naked upon the bed that she shared with her husband and she was about to let his big muscular black stud do it to her. A discreet sexual affair was one thing, but in this instance she was basically being pimped out by her husband's own boss and he was obviously taking great pleasure in witnessing her degradation. The vileness of what was about to take place on her marital bed, with the Asian's beady eyes taking it all in, a sense of wicked pleasure coursed throughout Lisa's petite body.
Smiling widely, Ichiro took great delight in seeing his young salesman's pretty wife about to submit to Toby. Ichiro only wished that Ken Bennett was home to see his beautiful wife spreading her sexy legs for the likes of Toby James. Then to degrade the lovely wife even more, he taunted "Yes, my lovely Mrs. Bennett ………………spread those sexy white legs so Toby can fuck you with that big black cock of his!"
Pussy pulsating in anticipation of gripping itself around that thick black shaft, Lisa reached down to grasp Toby's monstrosity and arched her hips up to rub her juicing cuntlips up against the bloated head. With Toby's large hands grasping her trim hips tightly, Lisa's eyes bulged as the stiff bone tried to force its way into her way to tight slit. "Gentle …………………gentle …………………..aiiiiiiiiiiieeeeeeeeeeeeeeeeeeeeeeeee!" she screamed as Toby did not try to ease himself in but instead had rammed forward with all 250 lbs of is muscular frame.
Cunt stretched as never before, Lisa tried to spread her legs even wider apart in order to accommodate what seemed like a baseball bat being shoved up into her ………….big blunt end first! "Oh, God ………………………oh, God ……………………..too big ……………..too big ………………………too BIGGGGGGGGGGGGG! Ahhhh, ah …………ahhhhhh …………………..…….ahhhhhhhhhhhhhhhhhhhhhhhh!" she groaned loudly as Toby forced himself into her tight sleeve.
For Toby, this was certainly a dream cum true for him, not really believing that the devious Asian would really be able to come true. Having seen the pictures of this sexy young wife holding hands with her husband when the proposition had been presented, it had been an offer that Toby found too irresistible to turn down. Toby rationalized that giving info on Mr. Higuchi's competitor would not really be harmful to his boss but in fact help get prices lower with Mr. Higuchi undercutting the competitor, thus his boss would end up paying even less on the deal.
Fucking his bloated cock in and out of the tight gripping hole, Toby's cock expanded as never before, excited beyond belief upon hearing the lovely wife whimpering in pain beneath him. Gritting his teeth, wanting to make this fuck last forever, Toby sliced in an out of the tight gripping snatch. Cock throbbing and pulsating madly, he was so tempted on spurting his pent-up load into his lovely white beauty, wondering if her nitwit of a husband had a fuck'n clue as to his wife's extra-curricular activities. "Oh, baby ……..yeah ………………..squeeze me with that snapping pussy of yers!" he groanded.
"Ohhh …………….ohhhh ………………yes ……………yes …………….fuck me ………………..fuck me ………………..fuck me with that big black cock of yours!" Lisa begged, wrapping her trim arms and legs around Toby's muscular black body. 'So bigggg ……………..so gooddddddd ………………so goodddddddd …………………..so fucking gooddddddddddddddd!' she panted in heat. Hands rubbing over the rippling muscles of this well-endowed stud, pussy creaming around his pistoning cock, Lisa quivered and then she lost it, screaming "I'm cumming ……………….cummingggggggg ………………………..cummingggggggggggggggggggggggggg!"
With the lovely young wife cumming on his cock, screaming out in ecstasy, Toby slammed forward with all of his might to bury his cock fully into her. Withdrawing till just his cockhead remained enveloped, he rammed forward with all of his might till his pelvis slammed up hard on her cervix. 'Wham, wham, wham ………………..squish, squish, squish!' were the only constant sounds being heard in the Bennett's master bedroom as headboard thumped against the wall while cock sliced in and out of the wife's mushy slit.
"Fuck her, Toby! Fuck the little bitch! Hot damn ………………..Mrs. Bennett ……………………..you're one little hot bitch! With that little loser of a husband you're married to was here to see what a little whore he's married to!" Ichiro taunted, encouraging the black chauffeur to nail the bitch. "Cum in her …………….fill the little bitch up with your hot jizz! Knock her up with your little black bastard!" he encouraged. Then the groans from Toby, along with spasms rock the muscular black body, it became quite evident that the stud was filling the beautiful wife's fertile womb up with his potent jizz.
Ichiro relayed the events of that day in the Bennett's home for his good friend, how that black stud couldn't get enough of the lovely white beauty and how the lovely wife couldn't get enough of Toby's big black cock. "Damn, Hideki! It was fucking unreal! That fucking stud could keep it up all day! Man, he then got her up on all fours and then fucked her like the bitch she really is!" Ichiro advised. "God, he later made her suck him off and I thought the bitch was going to choke to death!" he laughed.
As his friend expressed disbelief and envy, Ichiro then added "The best is still to come, my friend! When I stopped by her husband's office to inquire about his lovely wife's job, I told him that I was looking for a young energetic broker for some of my investments! Learning that the lovely Mrs. Bennett had just gotten her license, I asked him to call his beautiful wife right then to set up an appointment!"
"Once he got her on the line, I had him tell his lovely wife that I'd bring along Leon Smith who was also looking for a new broker! Leon Smith's a young black buck who had just inherited the business from his father and I was afraid we'd lose the account! The fellow wasn't that comfortable with Ken Bennett servicing the account but I knew what would satisfy the young stud and to make sure we kept the account! At the end of the day, I told him that I happened to be talking to Leon and he was in need of a broker too and that he'd be accompany me the next day!" Ichiro told his friend.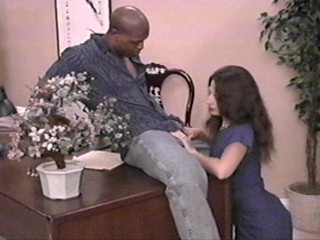 "Ah, my friend …………………..it was such a turn-on the next day when I saw that fool of a husband she's married to! He even thanked me for setting up an account with his wife and for getting Mr. Smith to do the same! I told him that it was the doings of his lovely wife and that Mr. Smith was quite taken by the 'oral' presentation that she gave! Heh, heh ……………….if he only knew that the 'oral' presentation was performed while on her knees, sucking off his big black cock!" Ichiro laughed.


End of Story